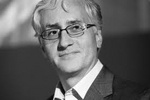 Art Club and Swedbank present lecture "Collecting contemporary art"

(0 comments)




Ilma Nausedaite, "Art Club", Vilnius


Collecting contemporary art still has more intrigue than charm for the most of the business people. Today media incorrectly enlightens the value of contemporary art. The lack of communication between art and business strengthens clarifying the main art market fundamentals. On the other hand, collecting contemporary art is a rapidly growing both cultural and business phenomenon in West and East.
Doctoral Dissertation of Kristiana Abele

(0 comments)


Assertation of Kristiana Abele Doctoral Dissertation "Johann Walter (Walter-Kurau). 1869-1932" will be on 24 February, 2011 at 14.00 in the Art Accademy of Latvia.

Call for Papers and Invitation to Conference

(0 comments)


We are inviting you to consider closer changes which were taking into their orbit the notion of spectator. The conference Spaces of Spectators: image, sound, performance, word will be held on 20-23 October, 2011 in Riga, Latvia.