The Great Organ of Latvian Painting


Kristiāna Ābele, Art Historian


Edvards Grūbe. Paintings 1963–2010
05.02.–14.03.2010. The Latvian National Art Museum exhibition hall Arsenāls
Edvards Grūbe. Photo: Uldis Briedis
Gauguin in his time had written metaphorically that "colourful painting enters a musical phase", in which Cézanne "constantly plays the great organ" and "colour, just as vibrant as music, is able to reach nature's most general and most subtle essence – its inner power"(1). This winter, motifs of the thoughts collected by Johann Walter's pupil Walter Hess in the anthology 'Documents for the understanding of modern painting', in addition to the personalities already mentioned, came to mind every time I walked through Arsenāls, in reality or in my imagination, confirming my feeling that for a half-century Edvards Grūbe has played "the great organ" in Latvian painting with increasing force. "Now, in my latter years, I want to paint as hard as I can. To shout – but pictorially, with the means of painting," says the master himself about his current works, adding: "True, we started off as "whisperers" after the generation of "shouters" in the severe style, but times have changed – there's no-one doing any shouting! Strong pictorial form and courage is a fairly rare thing these days. And where there's a void, it must be filled."(2) It would be no exaggeration to say that Grūbe has taken his place on the Latvian art scene like a deeply rooted, powerful tree, providing fine fruit from year to year, combining a loyalty to content and values of form chosen long ago ("...in the early 1970s I said in a TV broadcast that I wanted to refine my painting to the point of being a symbol. That is still my ideal."(3)), with a freeing up of expression "in the direction of an ever more laconic concentration, where the initial impulse completely melts in the unique energy of colour"(4).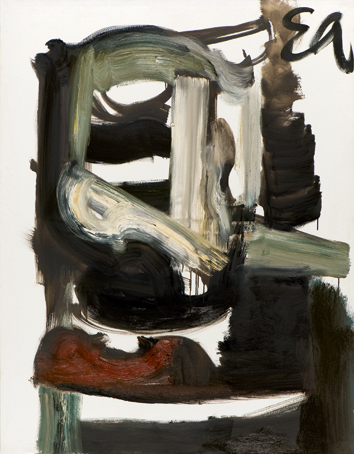 Edvards Grūbe. Still Life. Oil on canvas. 146x114cm. 2004
Grūbe's contribution, which includes many of the exhibits from his retrospective solo exhibition, may seem quite familiar for admirers of his art, and are now also revealed in Laima Slava's monographic album compilation. Yet I hope that in the future, on viewing the reproductions in the book, my memories will allow me to visualize these paintings directly under the vaulted ceiling of Arsenāls, where they gain the appropriate breadth for their scale and impact, at the same time trans-forming the exhibition hall into a shrine, in which a particular unity of monumentality and intimacy, pictorial generalization and genuine experience is able to whisk the viewer away into a shattering and revelatory meditation on fundamental values, as if at an organ recital in a cathedral. In its arrangement, the exhibition – set out by the artist, his spouse Inta Celmiņa and curator Dace Lamberga – has not followed a strict chronological order or thematic separation; instead, it seems, it has sought to find pictorial compatibility and interplay between the works, both in small groups as well as in wide-angle panoramas. The separation into decades is left to the album, whereas here the paintings are permitted to spread their energy in space, showing that all of the "1963–2010" period of history is, in its own way, an enduring present which is still continuing.

In order to see the few testimonies to creative work of the 1960s, one nevertheless must get to the very deepest corner of the two hall exposition, where, as opposed to the majority of the other paintings the portrait of the Salacgrīva fisherboy Oskars (1963), with its severe style aesthetic, can only be viewed up close. Leaping in time, forward and back again, from there we gradually return to a world where a contemporary vision increasingly dominates. In the painting Kurzemes baroks ('Kurzeme Baroque', 1968) it can already be discerned that the artist, without repeating concrete examples, has begun to study the heritage of Latvian early modernism and its sources, striving for the kind of laconically expressive synthesis which was of relevance for Jāzeps Grosvalds, Jēkabs Kazaks and their contemporaries. Now I notice just how much, in the sense of the reduction of form, these church-goer faces as well as the generalized shaping of a woman's head in the famous painting Māte (Sarkanā māte, 1974) ('Mother' / 'Red Mother', 1974) resemble the figurative images of some prehistoric and primitive cultures. As there "weren't any eyes, weren't any button holes, then I could just as well could omit that red star on the riflemen's foreheads"5 – the painter, in retrospect, can assess the advantages of the levels of generalization in one of the themes cultivated in the 60s – 70s, which is represented in the exhibition by the triptych Zem karoga ('Under the Flag', 1975).
Edvards Grūbe. Still Life with Doll's Head. Oil on canvas. 89x130cm. 2009
Grosvalds and Kazaks weren't destined to implement their ideas in the long term, conversely Grūbe's desire, in keeping with his character and stance to "first of all take the most important, discard what you can, and then achieve the laconic impression with that"6, provided him with work for a long lifetime, requiring of him to overcome diffi-culties imposed by external hurdles, to steadily cultivate and feed the ground for his creative work, to go into each challenge with a depth of insight and to enrich it with new experience. In agreeing with Laima Slava that "the level of abstraction in Edvards Grūbe's paintings...arises from the pictorial generalization of a specifically selected motif"(7), it is possible to draw parallels with Johann Walter's aim, self-formulated during his Berlin period, of achieving ultimate abstraction each time, as if anew, through the most rigorous process of nature studies. Under conditions of complete stylistic freedom, Walter's choice to rein in his creative field within such boundaries helps one to understand that the unbroken link with the impressions of the visible world in late 20th century and modern Latvian painting also could, at times, prove to be not superfluous Soviet period atavism, but rather the life-blood and artery of strength of an artwork. This seems particularly characteristic and fundamental to Edvards Grūbe, who, from what Inta Celmiņa says, "...can start a painting by drawing his favourite subjects quite realistically, but in the end the objects have only kept their most characteristic traits of colour and sometimes also the tension of light and shade, but not always their original shape"(8).

Beginning with the second half of the 1970s, in Grūbe's means of expression the corporeity and thick, expressive daub of paint gains an even greater importance, of which the rhythms of pattern, with the approaching turn of the century, gradually transmute into that lively language of painterly gestures which pulse in the works created in the 21st century and formally belong to the techniques of abstract expressionism. The "Latvian Rothko"9 – this comparison offered by Laima Slava – obviously comes to mind when looking at the few, as if vibrating, fields of colour in the painting Telpa ('Space', 2003), which was created in the year of the Mark Rothko exhibition in Riga, but actually shows one of Grūbe's continuing motifs of his creative work which he discovered in his youth, and has since frequently varied: an aperture of light. In any case, the artist in his exhibition isn't replicating the stamp of fame, remaining much too true to himself and full of surprises as in the painting Noskaņa ('Mood', 2007), in whose dusky blue glimmer the viewer can see not just an old mirror frame and the outline of a violin, but also one's own darkening reflection.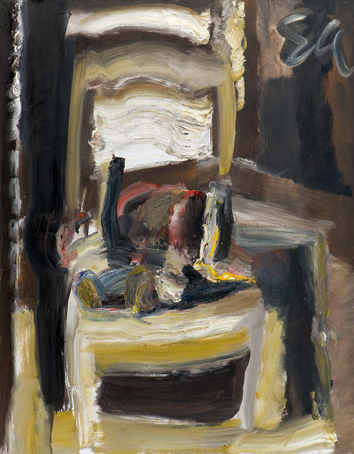 Edvards Grūbe. Chair. Oil on canvas. 146x114cm. 2004
P. S. When I used the virtual opportunity to reach bygone moments in the programme archive of Latvijas Radio 1, I found a recording of the 4 February broadcast of 'Kultūras rondo'. In it, a day prior to the exhibition opening, Ingvilda Strautmane interviews Edvards Grūbe, Inta Celmiņa and Laima Slava(10). As an overture to the discussion, the sounds of the Talsi Church organ can be heard – a passage from the suite Kurzemes baroks (1980) by Marģeris Zariņš, performed by Pēteris Sīpolnieks. And it is like suddenly receiving an echo of this moment's thoughts and feelings from the distant past, thirty years ago – the time when some of the most vital works in the exhibition were created.


(1) Cit. from: Hess, W. Dokumente zum Verständnis der modernen Malerei, bearb. von D. Rahn, Reinbek bei Hamburg: Rowohlt, 1988, durchges. und erw. Neuaufl., S. 42–43.

(2) Edvards Grūbe - His Own Story. As told to L. Slava. From: Edvards Grūbe. Comp. L. Slava. Rīga: Neputns, 2010, p. 34.

(3) Celmiņa, I. Painter Edvards Grūbe. From: Edvards Grūbe, 2010, p. 64.

(4) Slava, L. Edvards Grūbe. From: Edvards Grūbe: Katalogs. Comp. L. Slava. Rīga: Neputns, [2000], p.6.

(5) Slava, L. …būšu latvietis: [Discussion with Edvards Grūbe and Inta Celmiņa]. From: Studija, 2003, No. 32 (October–November), p. 12.

(6) Ibid, p. 14.

(7) Slava, L. Edvards Grūbe. From: Edvards Grūbe: Katalogs, [2000], p. 6.

(8) Celmiņa, I. Painter Edvards Grūbe, p. 56.

(9) Slava, L. Preface. From: Edvards Grūbe, 2010, p. 9.

(10) Refer: www.latvijasradio.lv/program/1/2010/02/20100204.htm.

/Translator into English: Uldis Brūns/
go back