"In any process one can see the bright and dark side, the pluses and the minuses. Official China tells us mostly about the pluses, and someone who tells us also about the other side – what happens in the shadows – is needed, too." Read the opening article of this issue The Life and Art of Ai Weiwei. Between Justice, Truth and Reality by Maija Veide.

Šelda Puķīte and Pēteris Bankovskis write on the exhibition of nominees for Purvītis Prize 2013 – an outstanding art event surrounded by discussions and passionate speculations. The exhibition is on view in Arsenāls Exhibition Hall till April 14.

Vilnis Vējš talks about Henrijs Preiss and the geometrically abstract compositions of his works, his set designs, as well as a story that is so irrelevant that you will never find it in any other article on this artist. Laine Kristberga explores research in art and the personal exhibition of Voldemārs Johansons Attractors.

The history section of 20th century art presents an article by Barbara Fässler on Bas Jan Ader, the artist who is considered to be one of the founders of the so called "romantic conceptualism".

Eglė Juocevičiūtė writes on projects by Tim Kliukoit, Karolis Vaivada and Rūta Songailaitė in artists' portfolio show "The Thursday Review" organized by Vartai Gallery. Further, Triin Tulgiste reviews the Nida Art Colony performance in the first two years of its existence.

Indrek Grigor touches upon the different methods of modelling reality in science and art, and analyses the curatorial work of Maija Rudovska in the exhibition "Inside and Out" in kim? Contemporary Art Centre.

Introduction to Kristīne Alksne and Zane Veldre in The Portraits of the Artists series.

Memento mori, a contribution to the jungle music style by Kaspars Groševs.

The section Translations. Art Citicism in this issue features an article by Hal Foster An Art of Missing Parts.

The visual attachment of this issue is the poster Dragon Curve by Doctor degree holder in Physics Linards Kalvāns. The poster is created using fractals, and the accompanying explanation will lead the readers of Studija off the "illusory roads of fractals".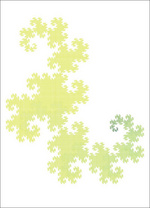 Linards Kalvāns. Dragon Curve. 2013
Follow magazine Studija:
twitter.com/magazinestudija
www.facebook.com/magazinestudija

Online archive of the magazine and information about subscription is available on www.studija.lv/en.

Visual arts magazine Studija is published in Riga, Latvia, by publishing house Neputns. It is supported by State Culture Capital Foundation of Latvia.
The magazine is bilingual (Latvian/English).