Interviews regarding dOCUMENTA (13), 2012
Svetlana Boym, writer, artist and professor, Boston
I think that your line of questioning is already in the spirit of this dOCUMENTA! You are catching me before it's been possible to have a moment of reflection, so it is all about experience. I like very much the idea that the show is not all about art with capital A, but about art and the arts. That it doesn't really devalue art with capital A, and doesn't try to overcome it, but puts it in an interesting context. On the one hand, the show is historical, on the other - contemporary in the sense of coinciding with one's time, in a way. So it brings works that we had forgotten, brings up - what for me is very interesting - a kind of eccentric histories and eccentric geographies, bringing together Kabul, Bulgaria, Middle East, Latin America, in a very interesting way. So far I'm really enjoying the eccentricity, but also a certain kind of authenticity of experience. I found many things really moving. It's not experience like relational static, like superficial interactivity, which is boring already, but a deeper sense of experience. I believe that art has retreated from being and acting on stage. I kind of like these non-concept concepts. So I've seen a lot of things in the show which were, for me, very moving. For example, the book project of Michael Rakovitz was very, very interesting and important; Janet Cardiff and perhaps William Kentridge. I really loved how the show brought back works from different periods, and contexts, like Morandi. There was one work that touched me particularly, which was a brick radio from Prague 1968. My first very early childhood memory is of my parents in Saint Petersburg, who tried to listen to the radio that was blocked. And so, when I saw this brick with its orange sludge of colour, it was very moving. Those objects were confiscated, although they were dysfunctional already. So they were kind of symbolic radios, but of course, they did not communicate.

During these opening days, I kept running into different people from different stages of my life, from Russia, Hong Kong, United States, and every night I never met the people I was supposed to meet, but then I met totally unexpected persons instead.

Lelio Aiello, curator, Bologna
Firstly, I would like to congratulate Carolyn Christof-Bakargiev for the way she was able to include the whole city. Compared to the dOCUMENTA I saw five years ago, this one has the feature ofnot having a clearly declared concept. I think the invasion of the town is very nice, despite that the show results in being dispersive for the public, because there are – beside the historical locations – artworks distributed everywhere. In comparison with the last edition, where it was very difficult to follow the issues because there were too many documentary films reflecting on political and social problems, this time we get again artworks to see, which is quite unusual for dOCUMENTA.

Bazon Brock, aesthetics professor, Wupperthal, Germany
dOCUMENTA is a local farce of what is happening worldwide and it is sold under the term of "Global Art". "Global Art Market" means that every batik towel from Thailand and every sand construction from south China is sold as an artwork. That means that the Western strategists of the market have invented "Global Art" in order to sell more and more banalities as an artwork. The label "Art" is the best sales argument. Since art is expensive, it has to be good. That's perfect for a merchant. There's no discount, no increase, everything is quality, because the price is correct. This story to present every coughing, every pointed finger or flour fallen on the table as Art leads to the phenomenon that art and science have disappeared.

Global Art is supposed to be a human extension of the Western gaze on the rest of the world. And that means that the whole Western shit is thrown onto the rest of the world. You give to any African or Asian person the hope that he, too, is an artist, because he manipulates some snow or some sand. This generalising way - to declare any creative act as an artistic act, dissolves the art itself. dOCUMENTA is a naughty agency of this global art perversion and everything they show here is nothing else than exoticism. As once upon a time, when one shouted: come on and see, we have a monkey from Japan!

The prince from Kassel, once collected as a curiosity, exotic people from the Congo, Oceania and so on. dOCUMENTA is exactly the same. The director celebrates a show of exotic people, and flogs the whip. No art, no science: Global Art is the death of everything.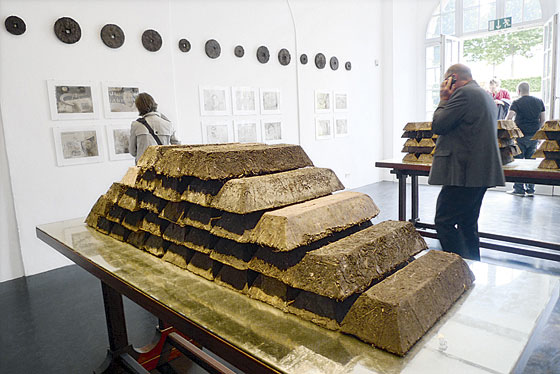 Claire Pentecost. Sol-Erg. Installation. 2012
Photo: Barbara Fässler
Bernardo Giorgi, artist, Siena and Berlin
I'm not particularly interested in discussing the single works, even if that would be nice, but I think the most important thing is the Artistic Director's attitude, which in a way is a new attitude. It's an interesting course, but sometimes Carolyn Christov seems to need too much to construct a limit, because she's afraid that she had gone too much in one direction, and in a way this need of limits worries me. But the thread that is hidden behind is very interesting. You can feel the air, the breath.

I think that our attention is moving on the fact that what we call reality is the last stadium of consciousness and we try to reveal what is inside of our vision. We are very lucky to live a very interesting but also a very difficult period. We artists have a particularly important role now and, with our work, I think it is of primary importance to succeed in creating an element of common good that helps everybody to survive. Over this barrier we find in front of us a frontier, which is at the same time interior and exterior.

Gabi Scardi, art critic and curator, Milan
What I have seen is an extraordinary show for the perspectives it is opening. With regard to other manifestations we have seen recently, where the form has totally disappeared, it seems to me that here form and expression are very present. It's never formalism, though, but an ability to incorporate and catalyse a sense. Everything seems to pass by the form and the expression, intended as the medium of a very strong matter, of critics or denunciation. Art as a form. But this form can contain and represent a possibility of change, a political thought, a transformation of the world. There is a richness of ideas and perspectives from the past to today, always with this ability of art to signify and to transform: not only representing, but developing a critical strength. The gestation passes exactly through this ability of the artists. With extraordinary and very direct works, like the one of Sania Ivekovic or Rossella Biscotti, an artwork that speaks of history. A story, still controversial, even in Italy, the country itself. It's never form as an aim for itself. It's never formalism, but it's trust in an art that goes over the reasoning strength, which is substance and answers to an urgent and regenerated culture. This is the propulsive force of art that Carolyn Christov-Bakargiev is talking about in her show. It's an energy that the Artistic Director of dOCUMENTA (13) has searched out going backward and forward in time, incorporating the past. This is the sense of this ranging over in time we can see also in the Fridericianum and which is the central nucleus from where the other parts of the show start. Everything is content, but content that presents itself through form and very often through material. But there is also immateriality, like in the work of Ryan Gander, who opens the exhibition in an extraordinary way: this dramatic, tragic wind that is spirit and history or emotion, but also the wind of change, of the transformation. Very strong. This wind, a very powerful metaphor, opens the show. In the park there is then the work of Anna Maria Maiolino: a woman's gaze, which is very present in general in this show and which corresponds evidently to Carolyn's point of view. The woman's gaze was able once again to imprint a transformation onto the world. In Anna Maria Maiolino's work an egg appears as a generative cell from where everything is born; art with its ability to generate energy and transformation. The organic element, the natural rebirth and the generative power, are strongly related to the feminine. Also at the Ottoneum there are a lot of works talking about natural cycles of the Earth and the economy. It's a show of titanic dimensions, of huge value and consciousness. I would like to see it all, but it's too much for our possibilities.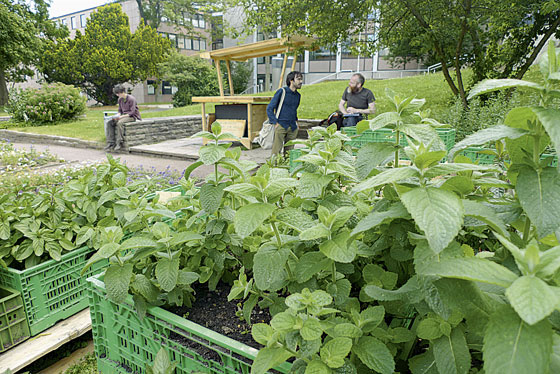 AndAndAnd. Non-capitalist herbal tea-garden. Installation. 2012
Photo: Barbara Fässler
Paolo Bianchi, art critic and curator, Baden (CH)
The impressions of dOCUMENTA are exciting, because each time when you arrive in Kassel you start to compare with the last edition. I think that this moment of comparison is the moment of the real impact. What makes me vibrate today, what made me vibrate in the past. I think that because of the fact that this show gives its name to itself, it becomes a sort of brain. But despite the sensuality of art or the emotional space of art, this time you also perceive a very strong rationality. This observation is quite irritating, because the access to the show is already encoded through the artworks, which are inside the head. This individual and subjective access, I perceive, contradicts my idea of art which should develop a collective speech, dialogic and open. I think dOCUMENTA (13) is especially interesting, because if you come from the park, where you find the artists who represent in a way Szeemann's idea of individual mythologies, it creates a strong contrast with the brain. Indeed, this individualism is more a sensation in the belly than a rational thought. That's why my position is ambivalent with regard to this edition of dOCUMENTA. I would have loved to find more obsession, more passion, more reflection, in the sense of a curatorial attitude. That's my desire for this dOCUMENTA or maybe for the next.

Paola Gaggiotti, artist, Milan
I like the air that you can breathe at dOCUMENTA (13), which is a good starting point for reflections on art over the next five years. I loved a lot a work I saw at the Auepark, from an artist whose name is Gareth Moore and who had made a wonderful installation, a sort of lodge made with rubbish found in town. I like very much this approach of art history of many artists. I like Carolyn's ability of telling stories into which I have entered and which I will bring home.

Milovan Faronato, curator, Milan
I very strongly suggest visiting the brain of dOCUMENTA, as the director has defined it, which is at the Fridericianum and which is a troubling way of presenting the works. I found in general the Fridericianum the most interesting place. Certainly, there are also good pieces in the other venues, like the work of Villar Rojas, the one of Kahn Robin, but also the sound installation of Tino Sehgal. There are many fantastic highlights I now will go to see, because you leave dOCUMENTA after three days, without having been able to see everything. And now I escape…

Wilma Kun, artist, Rotterdam
Just this morning, I was thinking about what I have seen, making some comparisons with the last edition five years ago. I had the sensation as if it were a look to the past, which doesn't give any answer about what will happen in the artistic future. There is a state of prostration in the incapacity to understand the contemporary. In the art, I see that even on the part of the artists there is very little curiosity, little fantasy, but a lot of passivity. There is no more vanguard, but a status of consumerism at three hundred and sixty degrees. I think that we are at a moment of stagnation and that dOCUMENTA is registering this stagnation. The work I have liked the best until now, one that transported me in another dimension, is an installation, not a visual but a sound installation. The work of Janet Cardiff and George Bures Miller in the woods, where you hear through speakers the sounds of war, of bombs, which contrast with angelic singing. It's a piece which works with your subconscious, the memory you have of things. It's the most beautiful artwork of dOCUMENTA.

Paolo Parisi, artist, Florence
The approach, even if I haven't seen all of it yet, seems to me very nice. There is the empty entrance with the wind, a work by Ryan Gander, which accompanies you into the space: it's one of the most beautiful images. There are some very nice spaces, like the one that contains the work of Fabio Mauri. The pieces in the Auepark expand a nice energy. I love the part at the Neue Galerie, for example Andrea Büttner's huge xylographies or the new edition of Rossella Biscotti's installation. Sturar Ringolts' sculpture, which seems to be a minimalist artwork, in the end reveals itself as a container for performances. In reality, inside itpeople are invited to express their own feelings. From the modernist plant of five years ago, now remains only an aftertaste around the most necessary emergencies, a demonstration of the speed of transformation and the actuality of a common feeling very well represented by the show.

Claudia Sunder Plassmann, architect, Kassel
I am working for the technical direction of dOCUMENTA. What I really find very exciting is that a new structure has been imposed over the original structure of the Auepark. For the inhabitants of Kassel this means that they perceive the park in a very extraordinary way, because they now stop, where usually they just cycle ahead. And now there stands a hut beside a giant tree: the dimensions seem to be clarified once more. As if you moved in another medium. When it's raining, it is very moist and even if not foggy, it is nevertheless mossy, the routes are macerating. So you wade to one artwork from where you see the next one. You dip in a very different atmosphere. When you walk to Pierre Hughe, everything changes again. It gets really extreme. There are the burning nettles and the spring herb high as a man, closed with a huge circular wall.

Another aspect I find really exciting is the occupation of the very old elements like the Kaskade cinema, the mosque, the House of the Huguenots or the ballroom of the Hessener Landhotel. Normally you cannot enter those buildings. I really love the fact that you perceive the city in a very different way. That's why the dOCUMENTA-time is a great advantage for people living in Kassel. You can go to these places again and again and watch how they look. Your relation to the city will fundamentally change.

I think it is fascinating how those places are peppered with art elements from different cultures and with other thoughts that lead you into another world. This is a supplementary network superposing over the common habit of Kassel and, at the same time, another link to the rest of the world.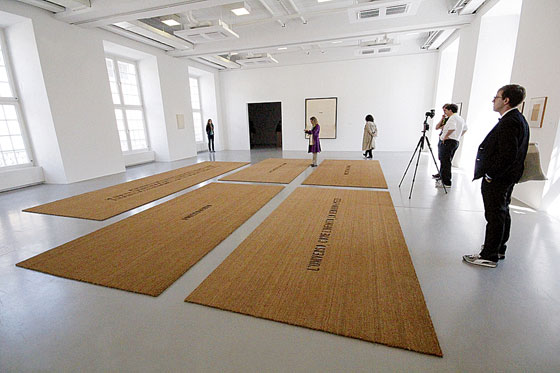 Fabio Mauri. The Universe, like Eternity, we see it piece by piece. 1957-1994
Photo: Paolo Bergmann
Chiara Fumai, artist, Milan, participating in dOCUMENTA at Auepark
I have been asked to bring here a character, Annie Jones, the "Bearded Lady", but then, when I came to Kassel and visited a feminine reformatory, I gave birth to her sister Zalumma Agra, an anarcho-feminist freak, the celebration of chaos.
I love dOCUMENTA. I love the direction of Carolyn,with Chus Martínez, Raimundas Malasauskas, they are very important persons for my inspirations. This project was born especially for dOCUMENTA (13). I don't think it has a father, but I'm sure it has a mother and it is Carla Lonzi. A virgin mother. An artwork that generates from herself.

The project is a pseudo scientific institution which presents two artworks. One is called Shut up. Actually Talk, and it's based on Let's spit on Hegel from Carla Lonzi, and the other is called The Prodigy of Nature. They feature two freaks. One is called Zalumma Agra, a witch, and the other is Annie Jones, a Bearded Lady. The installation Shut up. Actually Talk is spoken with the words of Cara Lonzi and brings the light of Lucifer. Feminism as secular antagonist. Demonic possession as a new awareness. It celebrates the monster through the metaphysical, abstract and deconstructed space.

The house has been built following the model of the Fox Sisters' house, two brilliant mediums of the 19th century. It is a tribute to the surrealistic aspects of all spiritual practices, especially those done by women. I have played with the idea of a haunted house, where ghosts and demons are feminist, anarchist, deconstructivist presences, who can pass over dialectical thought and celebrate abnormality.

Piercarlo Borgogno, gallerist, Milan
In general I like the project, besides the question of the artist's choice. The atmosphere of the project is well-directed, from my point of view. I love the Fridericianum, the first place I visited. The Ryan Gander piece, the sound of the wind which introduces and accompanies you into this visit, is just fantastic. It brings you to a dimension of concentration which consents you to manage your visit of this show without particular stress. I think the huge exhibition is supposed to guide you to your own reflection, to keep more attention on particularities, to concentrate on the sense of being an artist, making art or constructing an exhibition correctly on the part of the direction. I perceive a particular attention to the meaning, the essence of life. The song of Ceal Floyer, for instance, whose blues notes introduce you to another temporal dimension. You have to take your time. There is a constant recovery of memory. Yesterday, speaking with friends, I defined it as a constant Memento mori.

Induce yourself to get the real essence of our being here. This exhibition is constructed over five years, and those five years are visible in this very clear course.

Massimo Uberti, artist, Milan
In general, I like the show. I particularly enjoyed the beginning of the exhibition at the Fridericianum, from where you start the visit. But the place I preferred above all the others is the Huguenot House. Now we are at the Auepark and we are visiting those little tiny houses, which seem to me very attractive. But, for a deeper reflection, I need to see all the way. As the Fridericianum is the beginning, now I am looking for an end, to close the circle.

The piece of Tino Sehgal, in the Huguenot House, is the one to which I feel the nearest. It's a work in the dark. I am working with light: it's perfect though!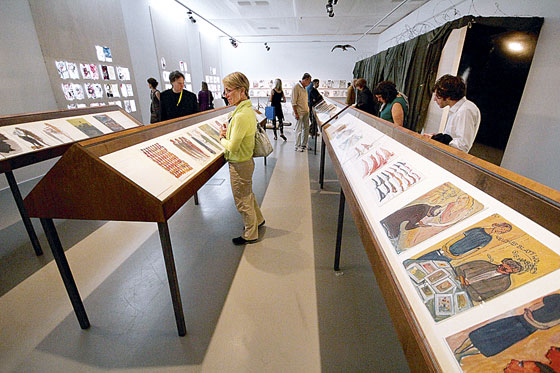 Charlotte Salomon. Leben? Oder Theater?. 1941
Photo: Paolo Bergmann
Khaled Hourani, artist, Ramallah, participating in dOCUMENTA at the Fridericianum
It's a good opportunity to be in such a huge exhibition and it's hard to judge the artworks and the whole of dOCUMENTA after only three days. But, in as much as I have seen, there are a lot of wonderful contributions. I would need one week at least to enjoy them all. I think there are a lot of interesting art pieces by many different artists in a lot of venues around the city of Kassel. The concept is very clear, there is a lot of different stuff, in this dOCUMENTA. It is a big opportunity for artists from all over the world. It's like seeing the things with a wide-angle objective.

Carolyn and her staff are very well organised and things were punctually ready, like the train ticket for example. Everything was organised from A to Z. The whole team is doing a great job. It's hard to judge the experience of others, but for me it has been very nice. The members of the team are very open and generous. They bring the whole world together, it's not only about Europe. It's not only about one concept, but it's about important and serious issues. Themes which touch artists from all over the globe. And this is very important.

My work Picasso in Ramallah is not a political art intervention, but an artistic practice. Only in the period of its realisation and organisation it gains a political aspect. It's about an artwork to exhibit in a small museum in Ramallah. And about a woman's portrait. We have an Art Academy in Ramallah and that's what Art Academies normally do: they take students to the museum. So we decided to get the artwork to Ramallah.

The students were part of the process of choosing the artwork to bring to Ramallah, the project I am exhibiting now at dOCUMENTA (13). I was showing them the collection of the Van Abbemuseum in Eindhoven to vote which piece they wanted to get in the Art School. I was trying to obtain a portrait of a woman in the Second World War, to shed light on the history of woman in art in general. Since time began, the representation of woman is not only about the figure, but about the metaphor of homeland and identity, as women and children are the first victims in wartime. What interested me about Picasso's work was the kind of grey-tone colours, which remind me of some Palestinian works which have come out of some circumstances related to the colour in war situations. Gray and green. And I think there was something magic in this choice. One eye on the Picasso painting looks into an empty space, the other one into a checkpoint. Like in Leonardo's Gioconda, the magic thing is her eyes, looking with this strange smile, that her gaze seems directed all ways at the same time.

Amjad Ghannam, not only artist, Jerusalem, participating in Khaled Hourani's contribution at dOCUMENTA, Fridericianum
It's my first international exhibition, indeed it's my first exhibition at all! It's very interesting to see works I cannot see in Palestine. It was very nice to meet a lot of people involved in art. I liked the Robbins Ruths performance and video art of the pixelated revolution. It was really touching to talk about the Syrian people from another perspective that we see normally on TV. I also love Emily Jacir's intervention and the Michael Rakowitz installation with the destroyed books.

I am participating in dOCUMENTA with Khaled Hourani's project Picasso in Ramallah. I read about it in a cultural magazine. I liked the project, although I thought it would have been very hard to realise it and to bring Picasso to Palestine. At that time, I was incarcerated in an Israeli jail as a political prisoner. I felt like I had to contribute to this idea. So I took an empty postcard and recreated the Picasso painting with ink and coffee, and I sent it as a personal gift to Khaled, who in a second's time managed to contact me through the same art magazine and finally invited me to take part in his installation at dOCUMENTA (13) with my tiny postcard painted à la Picasso.

Harald Noll, architect, Kassel
I am originally from near Kassel. I live in Kassel, but I also have been abroad for a lot of time. I experienced dOCUMENTA already as a child. I watched, for instance, Joseph Beuys, when he manipulated the honey pump. This was really fascinating, even for a child.

I can not say yet if I perceive this dOCUMENTA in a different way to others. To say that, the show is still too "young". In the period before the opening there is always a lot of speculation. It is, on the other hand, very nice that something like this is possible in Kassel. The party last night, or managing to accommodate so many people.

There are a lot of things coming from Kassel: the oldest video library of Europe is in Kassel, Hercules is in Kassel, the Grimm Brothers lived and worked in Kassel.

The one hundred days are very intense, but afterwards it is like in a fable:one hundred days pass away and are followed by five years of the sleeping beauty's sleep.

What I really find very interesting in this edition is the fact that they also invited scientists as a part of the artistic dimension. I agree with the idea that artists are also researchers, who try to see behind the thoughts of the people and act like shamans. Researchers do the same with their science. I'm really curious as to what consequences this input with the scientists will have on the future of dOCUMENTA and what sort of people will come to Kassel.

I heard that it's planned to invite scientists to dOCUMENTA also in the future. That means that dOCUMENTA (13) really touches on a new tendency, to take art more as a serious activity and to enlarge its operational field. Not to limit it to the art market, which revolves around itself, but to enlarge the field of vision with lectures and events. We have cancelled our summer vacation. Vacation at home. Vacation at dOCUMENTA (13).
go back