The power of pure images
Margarita Zieda, Theatre Critic
I'd like to think that a time will come when zombies and rubbish bins will have finally lived out and overstayed their welcome on the opera stage. This longing arose after watching the latest season's new opera performances in Berlin, where, one after another, works appear with murdered people rising up again, evidence of this being their blood stained clothes and corpse coloured make up. They come from the grave to play everything out once more from the beginning.

This phenomenon can be seen in the works of completely different directors and even in the thought processes of the greatest masters. At the end of the season the circle was completed and there had been at least one such work at all three Berlin opera theatres – at the Deutsche Oper it was Lohengrin directed by Danish director Kasper Holten, shortly before that there was the Berlin State Opera production of Lulu by German director Andrea Breth, and even before that there was Benedikt von Peter's staged interpretation of 'Idomeneo' at the Komische Oper. Flicking through German magazine Opernwelt, one could continue this list with Forza del destino in Antwerp and in other European cities also.

Clichés
Clichés become clichés through the exploitation of the same theatre language over an extended period. And today these clichés are already being manufactured while still studying, supported by critics and praised as powerful images. This impression was corroborated this year by the works of the new directors from Hans Eisler's school, which were presented by the Hebbel-am-Ufer theatre enterprise in collaboration with Berlin's Komische Oper, and reinforced later, when reading reviews in the media. It's clear that nobody wants to trample over the young, only just germinating shoots and therefore they express themselves leniently and encouragingly about not so masterful efforts of beginners. But it was symptomatic that the apocalyptic scenes with smashed up characters with limbs sawn off and the destructive visions encompassing all the possible clichés created by German productions in the past 20–30 years which were created from poor Franz Schubert's musical world, were praised as if they were images full of power. Yet the only work that was created in a pure rural pastoral style, with a healthy dose of humour, running counter to mainstream trends, was denounced as being average. Meanwhile, the once fresh and subversive has become routine. The frightening isn't even frightening, but has become predictable and boring.

Powerful artistic individuals don't, of course, listen to anyone and work in a way that they themselves think is right. But the fact that people have become bored by the deconstructive uniformity and that they thirst for a different kind of opera was substantiated by the storm of enthusiastic and thankful applause which didn't want to subside after the new production of Leoš Janáček's Jenufa by German director Christof Loy at the Berlin Deutsche Oper, and also after George Frederick Handel's dramma per musica Xerxes directed by Norwegian Stefan Herheim (who is working in Germany) was catapulted back into baroque splendour by a time machine at Berlin's Komische Oper. Professional reviewers in the more serious German media also joined in with the acclaim.

The "mystical qualities" of musical theatre
In the survey of international critics by Opernwelt magazine, Christoph Loy has been recognized as the year's best opera director three times. He is one of the few German opera directors who is also in demand in Europe: Loy has produced operas in London, Brussels, Amsterdam, Geneva, Barcelona, Los Angeles, Stockholm and at the Aix-en-Provence Festival. Loy received the Laurence Olivier Award for his production of Richard Wagner's opera Tristan and Isolde at London's Covent Garden in 2010.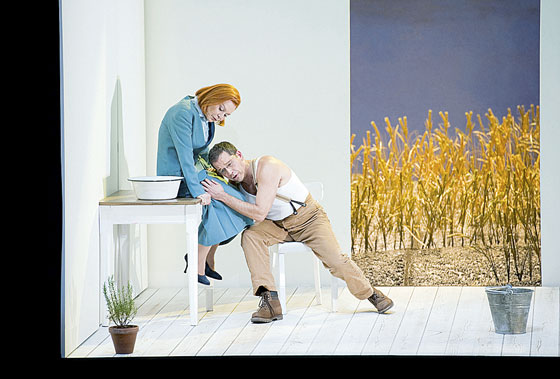 View from the performance Jenufa at Deutsche Oper. Berlin. 2012
Photo: Monika Ritterhaus
This year Christoph Loy turns fifty years of age. He began creating his poetically realistic world with the metaphysics of life breathing behind the cultivated pure, carefully finished images, at a time when it was not considered at all modern and was completely out of fashion.

His creative path has developed without scandal and without wielding a knife around opera scores, with respect for a work in the way the composer had written it. Loy's view is that he is not the opera author, he is the director. And, in his opinion, the greatest achievement of all would be to create the kind of production which, while watching, would leave the impression that the composer had written the music especially for that performance.

Loy's main question continues to be this – how does he, an artist with the aesthetic ambitions which every director naturally has, make the viewer concentrate on the person in the space? Moreover, on that person who is possibly less greasepainted and made up.

Christoph Loy gained a deeper understanding not only about directing but also about the visual culture of theatre art at the Essen Folkvang School, a special concept educational institution where he landed up at the age of 14. Here, students of various art forms study at the same place, thus not only autonomously acquiring their specialization, but also creating works together. Having continued to study theatre history, art history and Italian philology in Munich, in parallel pursuing practical work as a director, Christoph Loy came into theatre with a thorough knowledge of cultural history. This also imparts a special quality to his productions today; it is the director's special visionary culture of how to create characters and the events in their souls on the stage.

Loy belongs to the generation of directors who no longer battled against political systems, who didn't view opera as a force that is able to influence and change society and its thinking. A person's emotional world, their world of feelings, the movements of their soul – this is Christoph Loy's zone of work. A person has been endowed with emotions – why? The director says that he is interested in "musical theatre's mystical qualities", and he is also interested in the person. Maybe that's why the person is never locked into any particular era in his productions, nor in our modern age either. It is an oddly estranged place where Loy's people live, and they themselves seem to be not of this world. They are modern people and at the same time as if beyond the confines of time. They don't have domestic life within them, they have activities of the soul within them.

Windows of the soul
In his works, Czech composer Leoš Janáček searched for a form of expression for reality that the works written in the traditions of 19th century opera, in his view, weren't really able to convey. Janáček searched, as he himself tended to say, for "windows of the soul", and having abandoned the academic environment, began travelling around the area of his birth – Moravian villages, listening to the ancient songs sung by very simple folk. The music which began to reverberate from the reality to which Janáček had listened was so laconic that those who have come afterwards have been itching to "improve" this music, and not just once, writing in additional new notes to the rather lean musical score.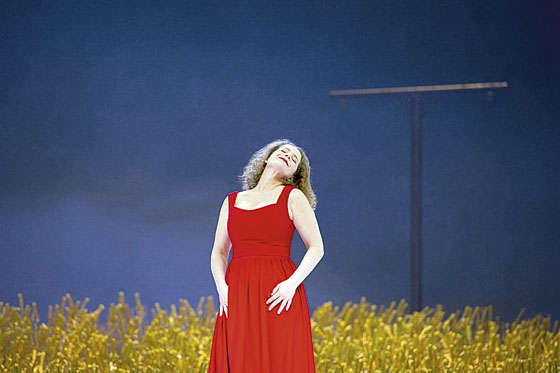 View from the performance Jenufa at Deutsche Oper. Berlin. 2012
Photo: Monika Ritterhaus
The interpreters of Leoš Janáček's opera Jenufa also seemed to think it was in need of improvement, at the preparatory stage before it was performed for the first time in 1904. The opera's first musical interpreter, conductor Karel Kovařovic, thought the work had too sharp edges, and he began to modify the score, changing the instrumentation as well as smoothing over the sharp edges. Later interpreters, however, returned specifically to these edges with genuine enjoyment, hearing in Janáček a kindred spirit of future music.

In looking for a story for his opera, the composer's attention was caught by Gabriela Preissová's play Her Stepdaughter, which had caused a sensation in Prague in the late 19th century. "The events in Leoš Janáček's opera take place in a rural village. Jenufa has to find a husband, but as she has a child out of wedlock about whom nobody is allowed to know, her stepmother kills the baby. The body is found during the wedding and the stepmother admits to the crime. Tell me, honestly – who today would still interested in something like this?" Berlin journalists asked of Christoph Loy on the eve of the premiere.

Christoph Loy, too, is searching for "windows of the soul", allowing the viewer to carefully peer into people. What takes place within, when rejected love transforms into a knife raised by an aggressive hand which slashes Jenufa's face? What takes place within a person when they kill another's child, in order to help the other live? Loy is interested in people's capacity to reflect, and he is also interested in the complete lack of reflection – as phenomena which are constantly with us in life. And he is also interested in the path of possible love in a person. This is also the chief question he poses in his production, which weaves throughout all the tragic events and the people swept up by them.

This Jenufa begins in a white clinical space. There's a door without a handle. It could just as well be a psychiatric hospital as a prison. A woman dressed in black, elegant present-day clothes enters and waits in a tense silence. She waits a long time. Loy's Jenufa begins with silence, with an intensive silence that continues for a long time until it opens to music. Christoph Loy begins by telling the story from the end, placing at the centre of attention the woman who tried to help her stepdaughter by killing her child. With the best of intentions – trying to spare her the sort of life that she'd had. And only by being forced into the space of loneliness does she start unravelling the event through different eyes.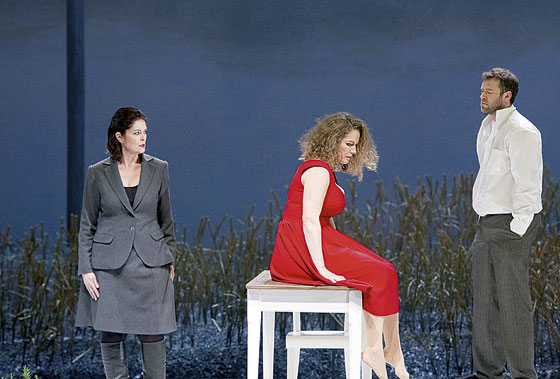 View from the performance Jenufa at Deutsche Oper. Berlin. 2012
Photo: Monika Ritterhaus
The lustrous white claustrophobic space opens up to memories as the walls slide away, behind them a mature field of rye appears. Jenufa's world as created by scenographer Dirk Becker is clean and beautiful – in love as well as in hatred and despair. The suffering doesn't continue in the visuality, it doesn't create a deformed world around it and is not echoed optically. The images are limpid, clear and beautiful, although the people within them are deeply wounded. The view is free of trifles, detritus, layers, and the people become deeply visible. The sensuous rye field and the winter scene frozen in ice – these aren't little pictures of the countryside, they are landscapes of the soul which replace one another. And they conclude with a white room in which there is a small white table with a little vase of colourful flowers on it, and a white chair next to it. In this space we can see the backs of two people who are heading out towards a huge black open space, holding hands. The love which didn't happen, which transforms into the possibility of love, the fear and the desire to go there, simultaneously.

The beauty of the images created by Christoph Loy and Dirk Becker which contrast so extraordinarily with the pain in the souls of the people seen on stage, opening up the viewer to a shared experience of surprising power, convincingly controverts the antiquating trend – the participation of the homeless in opera theatres, with the space taken over by a degraded, flat human environment. Twenty years ago it felt like a breath of fresh air to talk about the person as a spiritual creature, about fragile, delicate movements of the soul, by placing them in the choking constrictions of a hyper-brutal, hyper-degenerated environment. Placing the story in contemporary ugliness, so that the viewer would understand that what they were watching was also applicable to them. The purity of the stage scene cultivated by Christoph Loy which energizes the space, time and music, the unconventional psychological nature of the directing, as well as its precision and depth, allows one to feel, at the most diverse levels of the story, how very much this all relates to the person today. And the more beautiful it is, the more painful it is.

"A person emerges from this production enchanted, touched and consoled. The opera tale here was told just like it is, without updating it, without a socially or historically critical point of view. Is this really enough?" thoughtfully enquired the most influential German newspapers writing about Christoph Loy's Jenufa at Berlin's Deutsche Oper, in a rare unanimity of appreciation. Not forgetting a mention of the mighty ovations by the audience at the end of the performance.

/Translator into English: Uldis Brūns/

go back