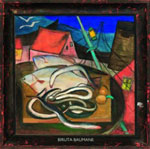 An exhibition in book form


Stella Pelše, Art Historian


Book Biruta Baumane. Rīga: Jumava, 2012

Although there is not a great deal of literature about the prolific and legendary painter Biruta Baumane, whose Parisian-style modernist manner has been on show at personal and group exhibitions since the 1950s, there is a little bit to go on, including the artist's own remarks.(1) The publication of a book in honour of the artist's 90th birthday is what tradition demands, but there are few precedents for two weighty albums devoted to the same artist being published within the space of a few years. So it was that in 2010 "Daugava"(2) published, in the burgeoning style of the economic boom years a hardcover edition which was dubbed by Māris Brancis as "the collected paintings"(3) in an analogy to collected literary works. This was joined this year by a smaller format paperback from "Jumava", which is easier to browse through, less pretentious and leads to a more direct conversation with the viewer. To those who are less familiar with artistic circles, and who may be surprised at such a turn of events it must be whispered that this is because the artist herself didn't particularly like the first tome, and her oppositionary fighting spirit honed during Soviet times resulted in a new publication, in which the works have been selected and ordered as the author wishes. As for the readers, they can now engage in an intriguing game of "spot the difference".

The most obvious difference is in the assumptions about what information an art album should contain. The usual approach (which has been followed by "Neputns" for many years) is to combine the old collection of pictures tradition (with only a brief, and in the Soviet period, officious and glib introduction) with a collection of articles and/or catalogue format (exceptions being monographs about Jāzeps Grosvalds, Johans Valters, Jēkabs Kazaks and others). That is, the pictures are accompanied by one or several extended and more or less analytical texts, biographical data, lists of works and exhibitions, a bibliography and a summary in a foreign language. While the "Daugava" edition aspires to such a substantially "serious" niche, Anda Treija's text is quite essay-like and thick with references. However, this edition is recommended if you want to learn more about the genesis of Baumane's style (for instance, that her art would be inconceivable without impulses from the Belgian school, Chagall, Matisse and Modigliani). The new book is an album in the true sense, apart from a brief passage by Boriss Bērziņs (already published in the 2002 catalogue) and an introduction by the artist herself, in which she reveals something about her teachers (Romans Suta, Valdemārs Tone, Jānis Liepiņš), her most important exhibitions and some sources of inspiration (the circus, fishermen etc.), there are only pictures. This concept is backed up by Baumane's words: "In painting I can't stand literature, or philosophy, or fashion, nothing other than painting in its purest form – clean, individual. Painting has her own language, it's only hers" (p. 12) To put it succinctly, enjoy the art and don't think too much; it's a genuine example of modernist thinking. In essence, the book becomes an exhibition inside a cover.

This obvious difference between the two books prompts the question of what exactly is the improvement or achievement in visual dramatics or the arrangement of images that the "Daugava" publication lacked? If we were to start with the cover, while previously an exotic Venetian scene had been selected, now it is a Harbour still life with windy, dynamic, diagonal rhythms and piles of lamprey in the foreground, which as if does more to highlight the local subject matter. If we throughly examine the images, we discover that the principles according to which they have been ordered are roughly the same, more or less chronological (from the 1940s until now). Thus on the same double-page spread we find either portraits of fishermen and fishing towns, or nudes, or small town landscapes, or circus scenes etc. Even the last work in both books is a similar "portrait" of a yellow rapeseed field with several background details. One clear difference is that the "Daugava" publication has a larger number of previously reproduced works, already part of the canon (Group Portrait, 1969; Lilioms (Helēna Romanova and Ģirts Jakovļevs), 1975; Antonio, 1973, etc.). There are fewer of those here (Potato Diggers, 1967; Rest at Haymaking Time, 1968) but more of the newer works (portraits of circus artists, Vestards Šimkus and Rēzija Kalniņa). The one reason why art lovers might want to browse through both is that there is almost no repetition in the chosen works. The collection in parallel to the previous "collected paintings" is a subjective "Golden Collection", offering another imaginary stroll through the painter's studio.

All in all, the question must be asked whether a certain artistic movement can get by without words, since words (as is often enough commented in reflections about the contemporary situation) tend to overshadow the art itself or ascribe value to things which don't really deserve it? Although the stubborn Bohemian Baumane has never painted official subjects, her subjects have consistently been real and tangible things – people, objects and nature, which in the course of the relentless development of socialist realism could be interpreted as required, for example, in the context of the Soviet people at work and play or the bountifulness of nature. At the same time, several writers have said that Baumane's works are hard to describe, but perhaps also the authors' approaches and "arsenal" of methods have not been adequate to it? Thus Aija Nodieva claims that, "Every analysed work trembled and froze like a pinned butterfly. On the whole, such analytically prepared painting lost its resonance"(4), while Inga Šteimane finds: "(..) rereading the hopeless excuses that pass for explanations of the significance of this art, according to which each concrete painting supposedly gains a multiplicity of meanings "in conjunction with the artist's own deep ethical principles", we can only conclude that while this art has earned its share of recognition, it has never been genuinely unlocked, hence also appropriately appreciated,"(5) urging that the focus be shifted to the richness of the plastic painterly language. To the set of cliched "keys" can be added "Latvian thoroughness", "primeval harshness", "peasant vitality" and similar expressions. On the other hand, the multitude of plastic language or form elements combining thick-painted daubs and watercolour-like transparent lacquering, fauvist reddish green brightness and subdued earth tones, independently elegant lines and capaciously modelled blocks genuinely makes these works a synthesis of absorbing, unique modernist experience and traditional realism, of which a broader analytical interpretation, it seems, is yet to be undertaken.

/Translator into English: Filips Birzulis/

(1) The most significant earlier publications: Nodieva, Aija. Dzīves krāsas. Rīga: Liesma, 1991; Baumane, Biruta. Es dzīvoju. Rīga: Jumava, 2002; Biruta Baumane: [Catalogue]. Compiled by L. Slava. M. Kalnupe. Rīga: Neputns, 2002.
(2) Biruta Baumane. Glezniecība. Compiler and text author A. Treija. Rīga: Galerija "Daugava", 2010.
(3) Brancis, Māris. Biruta Baumane. Collected paintings. Latvietis, 2010, Nr. 122.
(4) Nodieva, Aija. Dzīves krāsas, p. 7.
(5) Baumane, Biruta. Es dzīvoju, p. 229.
go back