Robert Smithson and Nomadism
Laura Prikule, Artist
In the 1960s there was a sharp, almost 90 degree turn in what was happening in art, and what followed is seen differently - depending on their aesthetic position - by anyone who evaluates this process and its consequences. However, even the most conservative of all the "denizens of the art world" in reality are forced to take into account the ongoing developments (performances, happenings, videos, pop art, minimal-ism, conceptual art) and their impact on the art forms of today, whilst those who belong to the more radical offshoots of contemporary art pro-cesses seek innovative methods and new paths, extensively making use of, among other things, the many discoveries of the era in question.

Viewed in the context of Latvia, the 1960s was a time when local art processes and that which was happening in the U.S. and in Western Europe was, at an official level, positioned in opposite camps, deter-mined by the rules of the game of the Cold War (as brilliantly featured by Stanley Kubrick in his 1963 cult film Dr.Strangelove) and belonging to different "blocs" of countries. At several metres high the Berlin Wall, raised in 1961 and torn down in 1989, was an accurate visual illustration of the prevailing situation in those days.

Although the Berlin Wall for some 20 years no longer exists, and one is would like to think that the creative processes in our country tend to fit in, ever more organically, with the overall development going on in world art, here and there the heavy concrete structures and their shadows still remain, as they do in Berlin. Only that in "the Mecca for creative people" the remnants of the wall are more of curiosity value for tourists, here they continue to function as stereotypes in people's perception of art and as occurences of a kind of informational vacuum, for which there is no particular justification.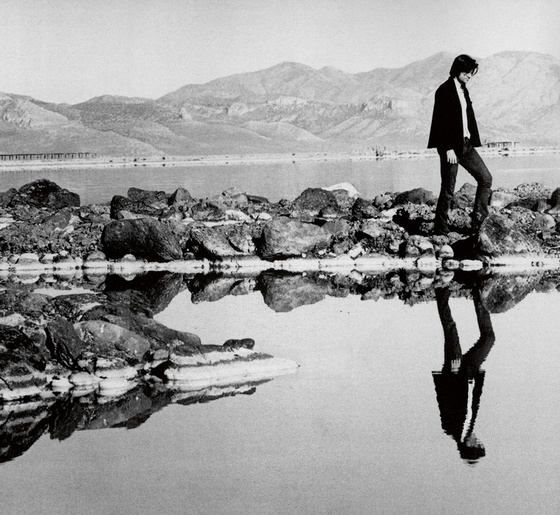 Robert Smithson on the Spiral Jetty. 1970. Photo: Gianfranco Gorgoni
Possibly I might be judging in terms of overly idealistic categories, yet it was circumstances related to the consequences of the said informational barrier, together with the experience of the vast scope and diversity of art experienced during postgraduate studies at the San Francisco Art Institute, that urged me to take the volume of Robert Smithson's writings off the shelf in my studio once more, not with the aim of looking at the pictures or rereading some of the essays, but in order to translate them. Who was this Robert Smithson - a visionary poet from the postindustrial expanses of New Jersey, an almost mythical figure of demiurge who, like one obsessed, roamed around various places difficult to access (Yucatan Peninsula in Mexico, Great Salt Lake in Utah, Florida), leaving behind him works of art in the shape of islands, spirals or trees upside down; a young artist who, in his creative activities, was eager to join in with everything that was of importance in the New York art scene of the 1960s: pop art, op art, minimalism, conceptual art, land art, doing an about turn of style at least three times; an avantgarde filmmaker who, in the course of his short life (1938-1973), managed to shoot only a few films; a fantasist carried away by pseudo-scientific ideas; a serious researcher of dinosaurs, crystals and lost continents; a self-educated bibliophile from the Eighth Street Bookshop popular among the beatniks; a sharp New York intellectual capable of subverting any idea which did not have sufficient argument behind it; the author of numerous scathingly ironic and critical articles, a powerful opponent of Clement Greenberg, the highly regarded art critic of the day; a utopian idealist who, for the expression of his creative ideas, sought new paths far beyond the white walls of galleries, thus being well ahead of his time, or, on the contrary, a deep pessimist, who in various processes saw first of all death, destruction, entropy, or maybe a born discoverer who - more than anything else - was eager to explore the "dark side" of the Moon and the nature of things?

In the postmodern world questions seldom have one single clear answer, and in this case also it is the multifaceted nature of Robert Smithson's enigmatic personality that has made him one of the most influential figures on the global art scene since the 1960s. Moreover, as time goes on the significance of his work is increasing.

However, the influence of Smithson differs from that, for instance, of Andy Warhol. Probably the only unifying factor might be the aesthetics of alienation which fascinated Smithson and Warhol alike, and was present both in their statements and in the art they created; this was to a certain extent characteristic of the art milieu of the whole period. The difference is that Warhol and his studio 'The Factory' was at the epicentre of New York's art life events and generated those events, though Warhol never fully involved himself and maintained that out-ward apparent indifference of his, while Robert Smithson in early 1960s was quite a young artist seeking his place in the art world of New York.

Given the mutually competitive relations between the two artists, this was not an easy process, but gradually Smithson came to regard himself as artistically mature and his opinions, in their turn, were heeded. In a decade marked by rapid change and the emergence of new trends each year, the artists were faced with a choice - what should be kept as a constant in the creative process, and what can be discarded without excessive sentiment, as the general tendency was towards reducing shapes, colours, structures and processes to their primordial condition.

We could draw parallels with what astronauts must feel when first setting foot outside the orbit of the Earth and landing on the Moon. No extraneous actions, only the barest essentials, casting aside all fear and venturing into the unfamiliar. Accordingly Smithson's creative transformations, at their various stages, mirrored the spirit of the age.

Nevertheless Smithson never got completely carried away by transient matters as such, he was more attracted by the extraordinary in the ordinary, and non-existence instead of existence, or non-existence as the factor defining existence. "I'm interested for the most part in what's not happening, that area between events which could be called the gap. This gap exists in the blank and void regions or settings that we never look at. A museum devoted to different kinds of emptiness could be developed. The emptiness could be defined by the actual installation of art. Installations should empty rooms, not fill them.", he emphasises in a conversation with his contemporary Allan Kaprow, who had considerable influence on the further development of art.(1) "But is seems that now there's a tendency to try to liven things up in the museums, and that the whole idea of the museum seems to be tending more toward a kind of specialized entertainment. It's taking on more and more the aspects of a discothéque and less and less the aspects of art."(2), he says in an interview in 1967, as if foretelling the future direction for the development of art institutions.

Over the decade Smithson's perception of space and approach to it radically changed; various media were used when depicting space or interacting with it. Besides, at the very start this perception was strongly influenced by Catholicism and reflections on biblical subjects, accentuating in his visual works and poetry the intertwined aspects of violence and martyrdom. Later, however, the role of science increased, both in his views and works (e.g. Enantiomorphic Chambers, 1965), followed by a deepened interest in architecture and aerial mapping related to the artist's work as a consultant for an architectural firm designing an airport.

In the artist's later years (1968-1973), his creations display a greater closeness to the mythical world space with ritualized creative activities, for instance, forming islands, creating primaeval continents, "displacing" mirrors across Yucatan, installing a "partially buried wood-shed", large scale asphalt rundowns and glue pours, as well as several spiral-shaped geostructures.

Smithson's creative activities started with two dimensional works - paintings, but with time he seemed more and more attracted to three dimensional reality, creating "sequences" of structural elements detached from walls and based upon a repetition principle; it was followed by the bringing of various outdoor elements into the exhibition space and taking displays outdoors, outside gallery rooms, frequently to a natural environment abandoned by Man. The "Site/Non-site" concept was followed by a focus on large scale land art projects in locations quite distant from New York.

One aspect of Smithson's life was left unchanged throughout, however, and that is the frequent moving and resettling, which left a huge impact on his work. The position which Smithson chose for himself and gradually instituted was that of a nomad, and this position can be formulated as "here, but not quite here". This state may be explained by his New Jersey origins and the frequent trips to New York since childhood, later followed by actual "duality", attending high school in a small New Jersey town set within a post-industrial landscape (quarries, old mines, rail tracks, decrepit, rusty machinery, various pipes and scrapheaps) and going to New York City several times a week to attend classes at the Art Students League and to visit museums and galleries. In addition, from an early age he travelled all around the country with his family; later, in the late 1950s and early 60s, he took up hitchhiking (typical of the beatnik era) which was succeeded by more purposeful journeys, establishing Spaces/Nonspaces as well as works of land art in the State of Utah (Spiral Jetty, 1970), at Emmen in Holland (Broken Circle/ Spiral Hill, 1970), as well as starting work on Amarillo Ramp in Texas. It was in the process of creating the latter that the artist, together with the photographer and the pilot, died in a plane crash (1973).

It would be difficult not to notice that "Smithson's mobility - enacted in his itinerate field trips to New Jersey and elsewhere - is the historical analogue to the nomadic practice of international artists today and the art tourism that their on-site production necessitates."(3), when reflecting, for instance, on the Venice Biennale. What's more, the theme of the exhibition curated by Daniel Birnbaum, Making Worlds, echoes the innovative aspects of Robert Smithson's mature work, although he, unlike Yoko Ono and Bruce Nauman, is not represented in the exhibition. It was Smithson who actually created new worlds in spaces where least expected (in abandoned quarries, in the ocean, at the roadside) and from materials which had not yet begun to feature in art (asphalt, broken glass, glue, shells or simply earth), thus already at the very starting line raising high the standards for future creative activity, namely, that of generating (or making) worlds. Nevertheless, the landscape preferred by Smithson was entropic, "marginal, often removed from Manhttan (...) and external to the gallery situation."(4)

To create a world in fact means to create order, but this requires great strength and concentration. Finding yourself in one of Smithson's worlds not far from Emmen, a town in the Netherlands, on top of the Spiral Hill erected in a gravel pit on the city borders, and looking down at the dark boulder at the very centre of the Broken Circle, at first you are overwhelmed by anxiety and then - you feel at peace. A feeling so powerful as to make you conclude that the overall structure of the artist's last two-part work of land art creates a convincing and potent art ecosystem,which organically includes all the surroundings, from the afternoon sun, the overgrown slope, the dilapidated industrial equipment and piles of gravel, to small islands on the body of water, birdsong, traces of caterpillar tread tracks on sand and a rather symbolical barbed wire fence for keeping inadvertent visitors away from the site. This is a place which stops time, because, in relation to infinity, time loses any sense.

(1) The Collected Writings of Robert Smithson. Ed. by Jack Flam. p. 44.
(2) Turpat.
(3) Robert Smithson, exhibition organized by Eugenie Tsai with Cornelia Butler. Los Angeles: The Museum of Contemporary Art, 2004, p. 234.
(4) Turpat, 21. lpp.

/Translator into English: Sarmīte Lietuviete/


go back