The National Art Gallery in Vilnius – the Process and Bridges of Cooperation
Irēna Bužinska, Art Historian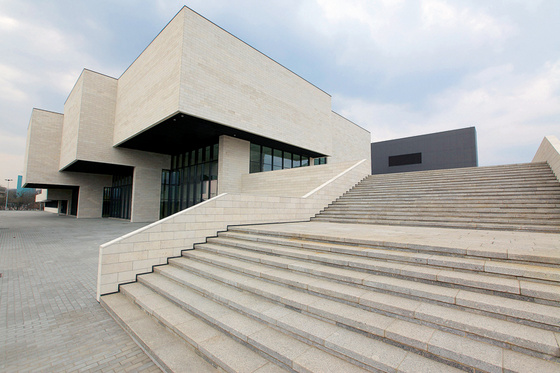 The National Art Gallery of Lithuania. Architects: Audrius Bučas, Darjus Čaplinskas, Gintaras Kuginis. 2002. Photo: Raimondas Urbakavicius
For over a century we took pride in the fact that on 15 September, 1905, the very first art museum in the Baltics was opened in Riga, with its own dedicated building. However, today our neighbours are ahead of us, because our common cultural space in the early 21st century has been enriched by two new museums.

The Estonian art museum KUMU, designed by the Finnish architect Pekka Vapaavuori, was unveiled in Tallinn on 17 February, 2006. Today, KUMU has become very popular, and even once-fierce opponents of the project now admit that the Estonian government was right in diverting a part of alcohol excise duty revenues to finance the building of the museum.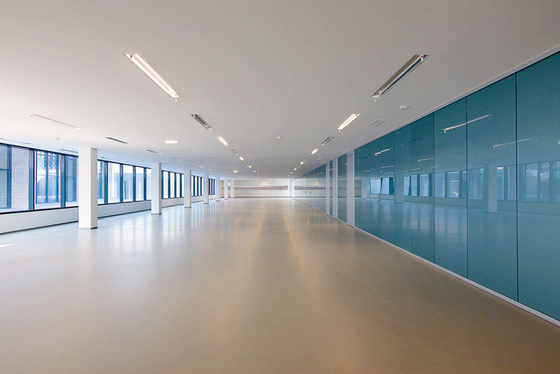 Interior of the National Art Gallery of Lithuania
The Lithuanians, also, had no doubts that the capital of a European Union member state at the begining of the 21st century needs a contemporary art museum. Upon learning that Vilnius would be one of the European Capitals of Culture in 2009, the opening of the gallery was included in the official events programme. The opening took place on 20 June of this year, shortly before Lithuania's millenium celebrations began.

The Lithuanian National Gallery of Art is located on the banks of the Neris River in Vilnius. It is housed in a building designed in the 1960s by architects Gediminas Baravykas (1940-1995) and Vytautas Vielius (born 1933), and which was finally built in the 1980s as the Museum of the Revolution of the Lithuanian Soviet Socialist Republic. After Lithuania's independence was restored in 1991, the museum was closed. At the time, the building was still in a reasonable condition and in 1993 it was handed over to the Lithuanian Art Museum. It was decided to establish a National Gallery of Art there, to show the development of Lithuanian art in the 20th and 21st centuries. Another decade passed before the Lithuanian government made the strategic decision, in 2002, to allocate funds for an extensive renovation of the museum building, to bring it up to international art storage and exhibiting standarts. Thus, the administrative and business district of Vilnius, where impressive skyscrapers are being erected and a kind of "Manhattan" is being developed, also became the site of a cultural and artistic institution.

The building's reconstruction was planned by architects Audrius Bučas, Darius Čaplinskas and Gintaras Kuginys. An important aspect of the project was that the Gallery's eventual managers at the Lithuanian Art Museum (of which the National Gallery of Art forms a part) were given the opportunity to participate in detailed discussions about the reconstruction plan and to supervise the construction work, providing a conceptual framework that anticipated storage space for 15,000 works, ten rooms for the permanent exhibitions, an auditorium, two halls for contemporary exhibitions, educational facilities, an information centre, a boolshop and a cafeteria.

Dr. Lolita Jablonskiene has been working on the National Gallery of Art project since 2002. Prior to this, she ran the Contemporary Art Information Centre under the auspices of the Soros Foundation. Her experience as a contemporary art curator has provided invaluable in developing the museum concept and in the acquisition of works by younger generation artists (created in the 1990s and early 2000s) for the collection. Dr. Jablonskiene is now the head and chief curator of the National Gallery of Art, and is in charge of the gallery's future programmes and plans.

Shortly after the gallery's opening on 10 July, 2009, Dr. Jablonskiene was interviewed by Studija in Vilnius.

Studija: Heartfelt congratulations to you on the opening of the National Gallery of Art in Vilnius! My first question is about you personally: how did you manage to combine your work as a contemporary art curator with your duties as administrator? For quite a long time you had to perform both of these jobs.

Lolita Jablonskiene: Yes, I began my career as a curator, and then became involved with the Lithuanian Art Museum in 2000 after the Soros Center for Contemporary Art-Lithuania ceased to exist as an independent institution. I already had over a decade's worth of experience as a curator, which had included major responsibilities such as Lithuania's presentation at Venice in 1999. But working on the plans for a major new institution was something else altogether. I found it very interesting to be involved, to be one of the initiators. And I had no doubts as to how important it was. I could see the purpose of it, because despite the fact that Vilnius already had the Contemporary Art Centre run by Kestutis Kuizinas, where many interesting international exhibitions are held, the city was missing a museum of modern and contemporary art.

The gallery concept was approved in 2002, so seven years have passed. In parallel, I worked intensively as a curator with responsibility, amongst other things, for the Lithuanian pavilion at the 2005 Venice Biennale (where the work of the USA resident Lithuanian artist Jonas Mekas was shown). So in my life these two creative career paths, as an administrator and curator, have gone hand in hand. Of course, over the last few years my administrative duties have increased immeasurably. But administration is also intellectually demanding. Together with my colleagues, we worked on the conceptual idea and structure of the collection exhibition. Bear in mind that our building is quite large - that's 10,000 m², of which 2,000 m² is devoted to 20th century Lithuanian art. The main exhibition hall occupies another 1000 m². We have a spacious foyer, where small exhibitions or single pieces can be displayed. The museum building consists of an old section and a new wing. It is architecturally striking. This year I personally headed two large exhibition projects to be seen in Vilnius as the European Capital of Culture. The first of these was the exhibition Dialogues of colour and sound. Works by Mikalojus Konstantinas Čiurlionis and his contemporaries (20 June-23 August), and then at the start of October, in conjunction with the Victoria and Albert Museum in London, we will open an exhibition devoted to Cold War art, architecture and design.

Now that the gallery is open, I have to find a way of achieving a balance. On the one hand, I can't imagine doing administrative work without also being a creative curator. At the same time, our main intellectual efforts must be directed towards next year's exhibitions and planning our work in the longer term. This year, with Vilnius being European Capital of Culture and the gallery just opened, is a special one. But very soon we will have to work under ordinary conditions again, with very limited human and financial resources.

Studija: You partially answered my next question. It is no secret that every museum seeks its own image and tries to position itself as a unique institution. For example, KUMU has declared itself to be a museum and an institution open to the public, but it also has ambitions to be a serious research institution studying the art history of not only the Baltic States, but of all Eastern Europe. They have held many conferences and published many articles to this end. I understand that your gallery's top priority is to exhibit and popularise Lithuanian art, but what niche does the museum seek to carve out as part of this particular European cultural region?

L.J.: When we were writing up our gallery concept we had to define our mission. I've participated in a lot of conferences and read many museum mission statements. I've thought a lot about our mission, though to an outsider it might seem like an easy and straightforward matter. Yes, KUMU wants to carve out a niche in Northern Europe by emphasising its links with neighbouring countries. As far as I understand, the projected Contemporary Art Museum in Riga will aim to be the largest in the Baltic countries. Warsaw's Modern Art Museum is scheduled to open in 2016, and it plans to focus on Central Europe. Every museum comes up with and proclaims such mission statements. But I wanted to avoid becoming attached to concrete slogans, because this binds you hand and foot - having to follow the mission precisely and to implement the loudly-proclaimed statement. What seemed important to me was to give a reminder of what is the most significant, and what characterises our specific situation. In the first instance, we are a museum located in Lithuania. Also important is the fact that we are in Vilnius, in a part of the city where previously there were virtually no cultural institutions. Therefore, we are a museum in a country, a city and a particular city district without a fixed, stable, enduring identity, which is now undergoing rapid changes, movement and development. We are a unique artistic institution which can reflect the dynamic movement of this transitional period, gathering together the symbols of contrast. Our building itself embodies these contrasts. It was planned in 1966, almost simultaneously with the Vilnius Exhibition Palace (now the Contemporary Art Centre). From 1980 it housed the Museum of the Revolution of the Lithuanian SSR, and the foundations of this original building as well as some of its other physical structures have been preserved in the gallery's old but radically renovated section. The new wing of the Gallery is in keeping with the new technological age. There are huge contrasts all around us: impressive newly-built skyscrapers housing banks, hotels, offices and a gigantic shopping mall. The Neris embankment has also been turned into a recreational area. There is the possibility that a branch of the Guggenheim-Hermitage Museum, designed by world famous architect Zaha Hadid, will be located nearby. All of this is evidence of a completely new attitude, way of life and style. Yet behind us there is also something totally different, and that's a setting like the deepest countryside, with old wooden cottages and very modest, even harsh living conditions. We hope and aim to reveal these sorts of contrasts in our exhibition programme.

The first exhibition, which we organised in collaboration with almost 20 European museums - from which we borrowed art works, also in its way characterised this contrast. Mikalojus Konstantinas Čiurlionis is our greatest national artist, yet he is often considered to be an isolated, unique personality, a solitary genius. We wanted to present the oeuvre of our best-known artist in a broad, international context unfamiliar to the public - as one of a number of distinct, creative personalities (Wassily Kandinsky, Frantishek Kupka, Edward Munch), whose creativity embraced a range of artistic aspects and who brilliantly overcame the boundaries between art and music, symbolism and abstraction. We followed the same principle in conceiving the structure of our permanent exhibition, creating rooms as meeting places for contrasts and contexts. For example, the 1960s room exhibits art from the "thaw," the second wave of Lithuanian modernism. But we didn't want to isolate or create a "ghetto" for Lithuanian artists living abroad. This means that, for the first time, wherever possible, works by émigré artists sit alongside those by Soviet-era artists, and this is a kind of discursive meeting point. Yes, it's the process and the collisions that interest me the most. I hope this may serve in place of a concrete slogan.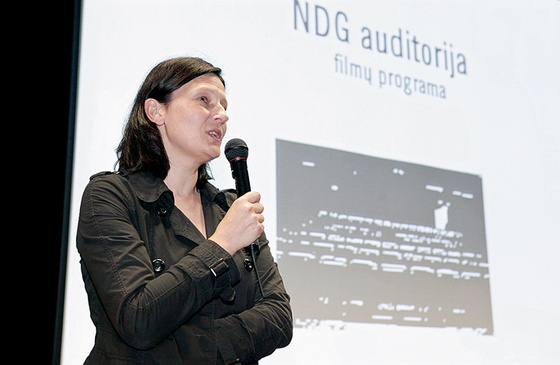 Lolita Jablonskiene. Chief curator of the National Art Gallery, Lithuania
Studija: Nowadays every exhibition is not only an original conception, it also means working with visitors and the general public. How will you balance your own research and creative interests with the desires of the general public and various groups? It is no secret that the tendency today is to focus on the interests of the public, and to accommodate its often quite simplistic demands. How do you reach out to visitors, while simultaneously satisfying the necessity of producing high quality exhibitions?

L.J.: As with all museums, the connection with the public is very important for us. It is one of the main priorities of the National Gallery of Art. But I don't believe that we should modify our exhibition programme, lower the level and quality in order to meet the public's expectations at any price. We have faith in our viewers and hope that they are drawn by the creative process and intellectual development. We are open, working for the benefit of the public, but at the same time we hope that the public is interested in new knowledge and a level of quality that only we can offer. We are developing an extensive educational programme. There are five people working in this area - that equals the number of curators. In the educational programme we intend to collaborate with experts from various fields, including art historians, collectors, artists and journalists, so that visitors have the chance to get to know one and the same work of art through the visions, knowledge, attitudes and opinions of a number of different people. We want to present every work of art in a broader cultural context.

Studija: The gallery's opening exhibition was a tribute to the successful cooperation between these various experts. As we know, a number of "pure" art researchers helped prepare it, including Dr. Rasa Andriušytė-Žukienė of Vytautas the Great University in Kaunas in cooperation with Dr. Vojtech Lahoda from the Czech Academy of Science Art History Institute in Prague. The working group also had a practical specialist, Osvaldas Daugelis, Director of the Čiurlionis National Art Museum. I think that the exhibition gained a great deal from the musical accompaniment, thanks to Lithuanian composer Šarūnas Nakas also being on the team.

L.J.: It's also worth mentioning that during the exhibition we presented a special programme of films about Čiurlionis and other artists in the exhibition (Edward Munch, Arnold Schoenberg, and František Kupka). The Cold War Modern exhibition will also include film and video. We are working on holding concerts with music from the respective period.

Studija: What major exhibitions are planned for the next few years?

L.J.: Of course, we won't be able to host grandiose international exhibitions every year, because they require considerable financial resources. But we hope to be able to realise a larger scale conceptual project every couple of years. One idea is to hold a joint exhibition with our colleagues from Estonia, Latvia and Scandinavian countries, thus exploring the peculiarities of modernism and the specific character of its development in this European region - in actual fact the periphery.

It would be interesting to produce an exhibition about the cultural impact of various technologies, from cinema and TV to video, and examining the media art of our region in a wider international context. We will definitely be organising more comprehensive exhibitions of Lithuanian art, featuring works by our artists owned by other galleries in addition to our own collection. I am very interested in the "Baltic" part of the Tretyakov Gallery collection which is kept very close to us, in Kaliningrad. And last but not least we are planning to regularly rethink and renew our collection exhibition, in order to generate dialogue in the art community and society at large.

Studija: You mentioned dialogue. What is the state of dialogue with the Contemporary Art Centre, which for a long time was the biggest and best exhibition centre in the Baltics?

L.J.: We will be competing to attract more visitors. We aim at 20,000 to 25,000 people attending each major international exhibition (25,000 have visited the Čiurlionis' and his contemporaries exhibition). But there is a significant difference between our institutions in that we have our own collection and have a great responsibility towards it. For the present there is a special state-funded art acquisition programme in Lithuania. This means that works may be added to the collection and these must be exhibited. The Centre chiefly organises exhibitions of contemporary art, whilst we cover the whole of the 20th century. Contemporary art is just one part of our collection and exhibition programme, and must be linked to, and in dynamic dialogue with, the overall cultural process.

Studija: Do you feel somewhat isolated from the cultural life that has thrived in Old Vilnius for a long time, on the left bank of the Neris?

L.J.: On the contrary! As I said earlier, it's the process that interests me a great deal. There are so many opportunities here. We must create exhibitions and programmes that promote mutual cooperation and build bridges with that side of Vilnius (its "old voice"). Not far from the gallery, the Technology Museum was reopened recently in an original 19th century power station. They have an interesting display devoted to Vilnius as an industrial city. Also not far from here is the Planetarium, another Vilnius cultural institution that many have totally forgotten. And nearby there are a number of places where young people flock together. Hence relations and cooperation projects are possible on a number of levels, with all of these institutions. We are open to new contacts and working together - that's what interests us the most in our programmes.

Studija: Thanks for the chat and all the best to you and the National Gallery of Art in the midst of such dynamic processes and development!

/Translator into English: Filips Birzulis/


go back