The Scenography of Romans Suta (1896–1944)
Natālija Jevsejeva, Art Historian
Romans Suta belongs to the type of multitalented artists who are equally successful in various art disciplines - painting and printmaking, design and decorative arts. The presence of these varied talents makesSuta's interest in stage design seem like a natural choice, but what is significant is that it started early in his creative life. In a monograph on her father Tatjana Suta notes he was already creating sets for the Alūksne amateur theatricals in 1918, and designed for a production of Pirmais vilnis ('The First Wave') at Riga Opera in 1919.(1) No information survives on the visual particulars of these sets. However, a partial insight into Suta's wealth of knowledge and his theoretical views on set design is provided by his 1920 article Notes on the Decorative Arts, which was published in a newsletter of the Rainis Society drama studio.(2) In this article Suta lists theatre set design among the decorative arts and opines that a set designer should not "restrict himself to a combination of elements from a certain period and style," he also has to attempt to present "the spiritual quintessence of the play or opera".(3)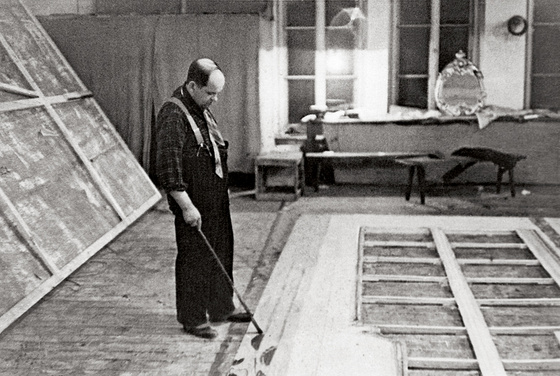 Romans Suta in the scenery workshop. Late 1920s - early 1930s. Unknown photographer. Photo courtesy of the Museum of Romans Suta and Aleksandra Beļcova
From publications in the press Suta was well informed about the creative efforts of various European and Russian set designers. He must have also seen theatre and cabaret productions on his many foreign trips. Suta condensed his travel impressions, practical experience and insights gleaned from reading into the lectures he delivered at the drawing and painting workshop of the Riga People's University and at his own private art studio(4) - for example, listing specific examples, analysing types of composition, colour scheme nuances and even the emotional effect produced by the foliage shapes of various species of trees to explain the creation of stage design in accordance with the musical dramaturgy and overall feel of the production. The most noteworthy among Romans Suta's earliest known theatrical works is his set design for a production of Carlo Gozzi's Turandot (directed by Jēkabs Zaķis), which premiered at Jelgava Latvian Theatre in 1926. This tragicomic fairy tale, Gozzi's Chinese fantasy, which also involves the traditional commedia dell'arte masks, was transformed by Suta into an extravagant féerie. Suta was fascinated with Chinese art, and his costume designs for the dell'arte characters were likewise distinctive combinations of elements of Chinese and Italian dress. The geometrical, simplified shapes used in the scenery reveal Suta's experience as a modernist artist. However, the innovation of his design for this production is more apparent within the context of his own work. In his experiments Suta is not as bold as some other avantgarde artists or constructivist scenographers. His sets are just a flat backdrop to the action taking place on the stage, not complex constructions that alter the structure of the scenic space.

From 1931 onward Romans Suta was a regular guest set designer at the National Opera. He was invited by Sigismunds Vidbergs for a collaboration on Ludwig Minkus' ballet Don Quixote (staged by Alexander Gorski, Alexandra Fyodorova). Although Suta was responsible for a significant part of the work, only Vidbergs is named as the designer of the production.(5) Possibly the blame for this lies with Suta's character. It was unusual to see an opera set designer in anything but a properly starched white collar, and Suta with his dishevelled clothing and somewhat casual manners did not fit in with the rest of the Opera staff.(6) After the successful premiere of Don Quixote, however, the prevailing opinion of him seems to have improved. His talent and capacity for work earned him the respect of his colleagues.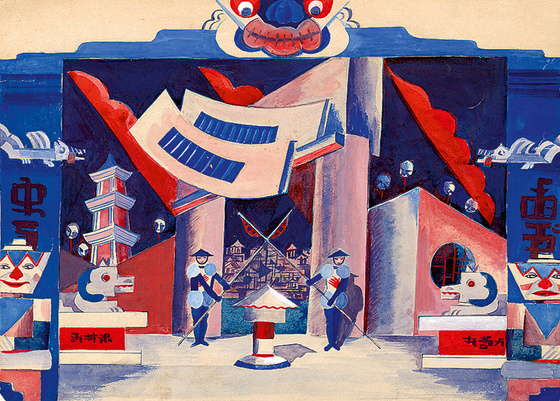 Romans Suta. Stage set sketch for Gozzi's play Princess Turandot. Gouashe on paper. 1926. Photo courtesy of the Literature, Theatre and Music Museum
In 1933 Suta once again turned to the characters of Italian commedia dell'arte for the scenography of Igor Stravinsky's ballet Pulcinella. The production was staged by Anatole Vilzak, who became the ballet master of the Riga National Opera in 1932 after his time with the Mariinsky Ballet in St Petersburg and Diaghilev's ballet company. He built up the repertoire from ballets he knew well, and danced some parts himself - for example, taking the title role in the production of Pulcinella. Although the modern movements and step combinations, the new musical rhythms and the influence of jazz were not particularly well understood and received by the Riga public, Suta's sets can be presumed to have been a good match for the music and content of the ballet. His costumes were likewise a successful play on the dell'arte theme.

Suta's first opera stage designs were created for Alexander Yurasovsky's lyrically romantic opera Trilby (1932, dir. Pēteris Meļņikovs), a story of bohemian life in Paris. Suta's sets - sophisticated, modern interiors - were in perfect tune with the atmosphere of the production. The artist himself viewed this work as a reasonable success and, as a member of the Printmaker Society of Riga, displayed his set designs for Trilby at one of its exhibitions.(7)

In 1935 Suta commenced work on Giacomo Puccini's Manon Lescaut (directed by Jānis Zariņš). This is one of the most interesting of his creations. In depicting the French Rococo environment Suta did not attempt to replicate historical interiors, instead choosing to present a free, stylised interpretation of the subject at hand. His sets did not create an illusion of reality - they astonished with their pictorial quality. Each detail of his scenery for the second act, showing a lavish palace hall, shows Suta's personal creative style. The characteristic stylisation of the figures on the decorative wall paintings matches several examples of Suta's decorative compositions for crockery. The vase on the windowsill is unmistakeably "Suta-esque" in shape; and the fact that it bears little resemblance to real items in the Rococo style seems not to have bothered Suta on this occasion. He shows an ability to combine things that seem incompatible at first glance, and leaves no doubt as to his gift as a universal artist. In 1939 Suta had another opportunity to indulge his interest in Oriental style.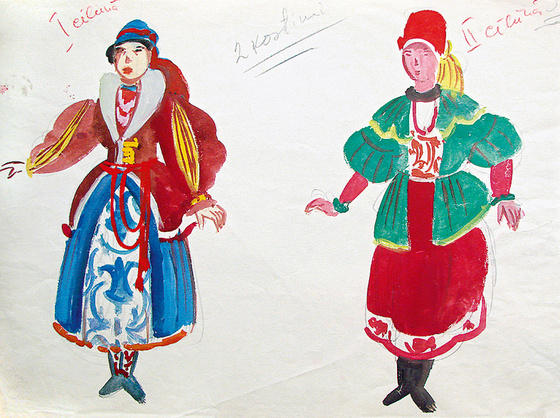 Romans Suta. Sketch of two female costumes for Tchaikovsky's opera 'Mazeppa'. Gouche on paper. 1939
He worked on the scenography for Pietro Mascagni's Iris (directed by Jānis Zariņš), an opera that tells of the tragic fate of a young Japanese girl. Knowing Suta's love and high esteem for Chinese and Japanese art, as expressed by the artist both in words and in art (several series of ink drawings in particular), he must have approached this production with much enthusiasm and inspiration. In Suta's interpretation, the exotic flavour and lyrically dramatic mood comes through both in the refined interiors with their expressive drapes and painted screens, and the panoramic views of the snow-covered summit of Mount Fuji. He addressed similar tasks while working on the scenography for Tchaikovsky's Mazeppa (directed by Voldemārs Pūce), staged that same year, in 1939. While working on the costumes for the characters of this opera, Suta created countless improvisations on Ukrainian ethnographic dress.

Besides working as a scenic designer at the Latvian National Opera, Romans Suta also designed some productions at other theatres. For instance, in 1930 he created the stage design for Elza Egle's comedy Zelta ādere ('The Gold Vein', directed by Pēteris Ozols), and in 1932 designed the scenography for Austra Ozoliņa-Krauze's play Katrīna at the Latvian National Theatre (directed by Jānis Zariņš). Judging by some individual sketches, Suta has also designed sets for some children's plays, but no information has been found regarding the venues in which these productions were staged.

Many aspects of Suta's work as a scenic designer still remain uninvestigated and await future research. His creations possess a distinctive style, his stamp is unique. Suta was well-versed in world art history, was interested in theatre and the work of other stage designers. All of these elements offer vast opportunities for the interpretation of his scenography.

(1) T. Suta. Romans Suta. Riga: 1975, p. 86.
(2) R. Suta. Piezīmes par dekoratīvo mākslu. Skatuves studija. 1920, Nr. 2/3, pp. 20-21.
(3) Ibid.
(4) Lecture notes survive in the family of R. Suta's pupil Ēriks Riņķis (1907-1979), later a theatre scenic designer. Copies of these notes are at the disposal of the Museum of Romans Suta and Aleksandra Beļcova.
(5) I. Bite. Latvijas balets. Riga: 2002, pp. 61, 591.
(6) Tatjana Suta. Romans Suta. Riga: 1975, p 87.
(7) At the 4th Exhibition of the Printmaker Society of Riga in 1932.

/Translator into English: Līva Ozola/


go back