Ceci n'est pas une pipe...


Jānis Borgs, art critic


Armands Zelčs. Escape Attempt
12.06.-19.07.2009. VKN Gallery
...or, "this is not a pipe" - such was the inscription the well-known Belgian surrealist René Magritte placed below an image of a pipe in his famous late 1920s masterpiece, The Treachery of Images ('La trahison des images'). The artist repeatedly used similar visual and conceptual paradoxes in his works, as a reminder of the illusory and superficial nature of the visible world. What we mistakenly perceive as an objective and true reality is just a tiny part or a narrow aspect of something much greater and more obscured. Just a single version of reality among multiple other possibilities. Or, as the tagline of a mystical TV series puts it - the truth is out there.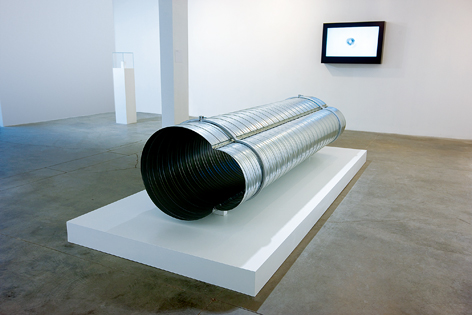 View from Armands Zelčs's solo exhibition Escape Attempt. In the foreground: Escape Attempt. Object, tin. 825x3000mm. 2009. In the background: Nut. Video, loop. 2009. Photo: Armands Zelčs
The abovementioned art history-based train of thought came to mind while viewing Escape Attempt, a solo exhibition by conceptual artist Armands Zelčs at the new VKN Gallery at Spīķeri. Its presentation in the small space was minimalistic - just three groups of ascetic installations. Their essence will not be revealed to the casual spectator who, in the cursory glance of their everyday rush, only - perhaps - takes in the "pipe", missing the additional dimensions encoded in it. But this is one of those exhibitions, so characteristic of conceptualists, which necessitates calm, absorption, meditation... The kind of state of mind which is sometimes commended by our wise pastor Juris Rubenis - seek your answers in silence... Armands Zelčs offers his version of the "pipe" in the installation diptych Uzgrieznis ('Screw Nut'). A small glass box holds a most technical object - a seemingly ordinary nut. What could be so special about it? But the feeling that this has to be the key to some sort of code makes you examine the nut a second and a third time. And only then do you realize that it cannot be screwed onto anything very easily, because its familiar and functionally logical threaded hole has been replaced with a single, seemingly absurd square plug. However, a certain solution to the problem is provided by the action taking place on the screen of the monitor. The nut rotates, the square plug is optically dissolved and the illusion of the object's purpose is restored. Zelčs' annotation explains: "The false assumes the functions of the true. This transformation is real and suggests the goal is in turn only an illusion."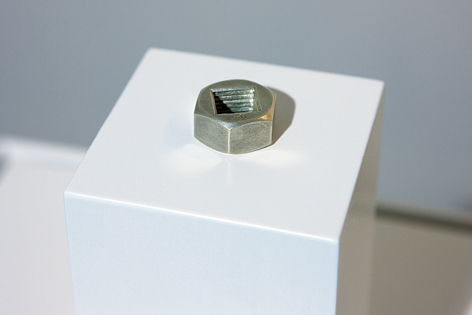 Armands Zelčs. Nut. Object. Silver. 25x25x11mm. 2009. Photo: Armands Zelčs
The centrepiece of the exhibition is another pair of objects, united under the title Bēgšanas mēģinājums ('Escape Attempt'). This is also the title of the entire exhibition, which indicates the key significance of this installation. The author's annotation contains a beautiful and poetic admission that "this work was inspired by the pregnancy of Māra Viška, a fellow student of the artist". Further evidence of this fact is provided by a small ultrasound picture on the wall, which apparently serves as absolutely documentary proof of the abovementioned Māra indeed being an expectant mother: the presence of a tiny human embryo within the picture's fanshaped outline is unmistakeable. Any guesses re-garding the depth of motivation of the author's personal involvement and inspiration in this process will remain unconfirmed. But in any case this process of the birth of a new individual can provoke a variety of reflections on transition from one state of reality into another. Perhaps birth really can be interpreted as escape? Eternal change as eternal escape. All our lives, we keep escaping from something, and to somewhere... Are we fugitives? Is escape a condition, a form of existence? Can we ever really escape? Or can we only try? It seems such "escapist" notions are closer to Zelčs' heart. But this will not stop the viewer from interpreting the ideas that his works originate in completely different ways and accepting different definitions. This is one of the traits of good art - it is as varied as reality itself.

The culminating development of this work is revealed through the central positioning of the enormous ventilation pipe, an absolutely technocratic readymade object. Is this tube a vagina-like symbol of a tunnel of transition, or a tunnel of escape? A tube, a pipe we can also interpret in a completely defunctionalized way, as an abstract, even aesthetic shape diversified according to situation. Or as a conceptual challenge.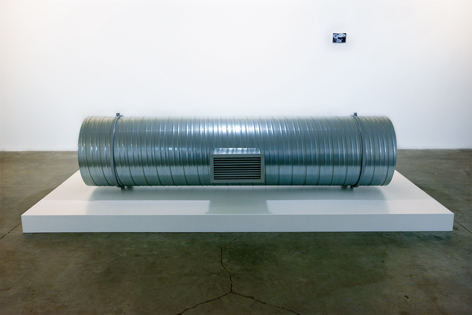 Armands Zelčs. Escape Attempt. Object, tin. 825x3000mm. 2009. Photo: Armands Zelčs
However, perhaps the most emotional of all here is Zelčs' concept/concert object, his Opus No. 3, minimalistically titled Do. Its conceptual key is provided by a couple of acoustic earphone devices: by putting them on, the spectator may enjoy the sophisticated sound of Piano Concerto No. 2 (in C minor, Op. 18) by the Russian grand master of Romanticism, Symbolism and the avantgarde, Sergei Rachmaninoff. Such a tandem with this aristocrat - in blood and in spirit - within the confines of a work of art is, of course, a very daring choice. But Zelčs displays commendable intelligence and avoids sinking into vulgar chumminess with a titan of world culture, without losing his own artistic individuality in his shadow. Armands Zelčs respectfully and modestly manifests the emphasis of the single do sound in Rachmaninoff's opus. In honour of this sound he has created a single-key piano. A unique and completely Dadaistic instrument. A visually and conceptually powerful object.

Zelčs' works contain elements of the beautiful, even poetic merging and parallelism of contemporary conceptualism and installation art with the classics of the first half of the 20th century - Dadaism, Meta-physical Art and Surrealism. Likewise Magritte and Rachmaninoff, as contemporaries, also moved along the same stream of culture. Latvians have known these feelings, this yearning for European cultural together-ness for a very long time, ever since the First Awakening in the latter half of the 19th Century. Armands Zelčs, who has received an MA from the Visual Communication Department of the Latvian Academy of Art, is still a student at the Department of Experimental Media Design of the Berlin University of the Arts, but has already become a recognized artist with significant international experience. Perhaps Zelčs' case is another manifestation of the stimulating effect of Germany. Not so long ago, at the Arsenāls exhibition hall, we were able to enjoy a grand show by another of our conceptualist powerhouses - Leonards Laganovskis. It is no secret that his artistic personality has in many ways taken shape and grown in strength in Germany, a country where the aura of the work and ideas of the great Josef Beuys' still permeates the air. This is and will remain a treasure of Latvian culture: a nucleus of artists tempered in the atmosphere of global art. Zelčs is certainly a part of this elite. In any case, his "escape attempt" in Riga is a success. The nuanced sophistication, Rachmaninoff-esque timbre, almost German thoroughness and seriousness of Armands Zelčs all show that where "pipes" are concerned this master is by no means a novice.

/Translator into English: Līva Ozola/


go back