A Brief Digest of this Summer's Exhibitions of Textile Art
Ieva Krūmiņa, Professor of Textile Art, Art Academy of Latvia
It's just turned out that way this summer that exhibition spaces in Rīga have been featuring textiles: works by Latvian artists, Western European patchwork and even exotic Indonesian batik. Until 30 August, the Museum of Foreign Art is offering an opportunity to examine, study and compare, or at least to reflect on the place of Latvian textile and fibre art on the cultural scene and in the collection of personal impressions of each individual viewer (The exhibition of Latvian textile art The Untouched, 08.07.-30.08.2009). My observation is positively interested and hopefully expectant - even if a seemingly mediocre offering catches the eye - as I am aware that in order to enable the creation of truly high-quality works, there must be a solid base, the fertile ground that maintains the required "creative temperature" for something surprising and excellent to flourish.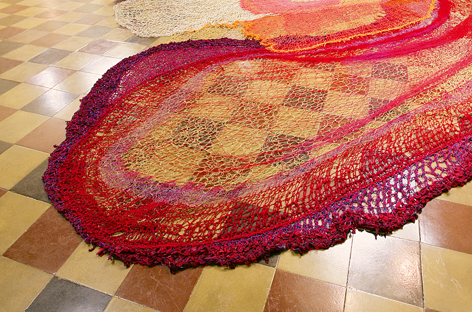 Inita Heinola. Campari Bitters. Knitting. Flax, cotton, wool, silk, synthetics. 734x480cm. 2009. Photo: Martins Vizbulis
Roaming through the exhibition halls, I am searching for potential conversation partners, waiting for something to address me first. At the exhibition of Indonesian batik, among a single author's silk and cotton paintings in the classical technique of wax batik, I find several works where the ornamental sophistication, brightness of colour and technical mastery call for admiration (The exhibition within the framework of the Indonesian Culture and Handicraft Days Indonesia is Coming!,16.05.-30.05.2009). It does not matter that the items on display have been created following canons worked and reworked over centuries, this time it's an educational afternoon and I am learning. The teacher is all smiles, and, holding in one hand a piece of thick cotton cloth, with each tyanting full of hot wax unbelievably deftly draws patterns of filigree precision. The things I see will bring me to reconsider my views on what can be done to a humble piece of cotton fabric. For that I am grateful to the master - Bambang Sumardiyono.

The exhibition Textile impressionen (on display at the Museum of Foreign Art, 06.06.-28.06.2009) features patchwork by TEX21, a group of German female artists which includes 13 professionals who have succeeded in conceptually detaching themselves from the roots of this type of art, namely the processing of scraps of worn out fabrics into new utilitarian items such as blankets and pillows. First of all, there is Friderun Heil, whose collages of thick, unwieldy and patched fragments of fabrics have accumulated a testimony of their former life in the shape of rough jute sacking, raw flax bed sheets and other useful household textiles. It is those threadbare and faded fabrics, saturated with countless marks left by time and humans, that by their visual proper value alone create for the viewer a train of associations and memories about that part of life lived long ago, but still personal; about home, events, people and rituals.

Among the Latvian artists, Inese Jakobi definitely has some-thing say in this conversation. Her exquisite patchwork piece Logs ('Window'), in the exhibition Intīms ('Intimate') at the Museum of Decorative Arts and Design (27.05.-06.08.2009), reflects not only upon the testimonies of time, but mirrors also the author's own sensations and emotional states recorded by countless stitches in a sort of a diary of a contemporary idealist, trying to patch up the flaws of this world. Considerable added value is awarded to historical facts also by Diāna Dimza-Dimme in her 14 Pages from Grandmother Elza's Recollection Notebook and Red Colour on a Photograph. These are digital copies of the artist's grandmother's letters and photographs, done on fabric and made more graphic by hand embroidery in blood red. By permitting a glance into her grandmother's private corres-pondence and the small notebook of recollections, the artist allows us to perceive more intensively the moment of trying to discern where the border lies between endearing but superficial decor and the 'dry residue'.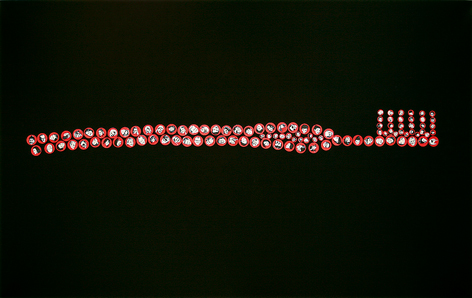 Agnese Kirmuža. A smile resembles a toothbrush - it should be used regularly in oder to have clean teeth. Japanese proverb. Author's technique. Silk, synthetics, paper, metal. 149x244cm. 2008. Photo: Martins Vizbulis
Lija Rage, too, joins the conversation with her work Pirms ('Before'), where the author attempts to recapture the sense of home which, although being different for each individual includes, nevertheless, a universal password understandable to everyone. The artist has delicately combined tapestry with finely wrought overlays of wooden fibre in varying rhythm, thus imparting volume to a classical tapestry, as well as imbuing it with emotional density. Musturs+ musturs ('Pattern+Pattern') by Arnis Pumpurs is a large scale, decorative and, as always, technically impeccable screen print, which draws the viewer's gaze into a maze, and, whilst looking for an exit, the viewer may not only lose but also retrieve a multitude of thoughts and associations.

Much of the above was missing in the exhibition entitled Spalvas ('Feathers') at St. Peter's Church (22.05.-28.06.2009), which, although boasting the title of 'international exhibition' and an apparently professional jury panel, is - to put it mildly - patchy. Alongside a few expressive and technically perfect works, there are a number of kitschy and amateurish items attempting to play on the title theme of the exhibition - feathers. I do not know how considered and well-founded the organisers' decision of charging the artists with this task was, but judging by the results, whatever the intention had been - the outcome is so modest, that it downgrades the works of high professional value as well.

What makes our textile art different, and still worthy of attention in the context of other countries, is the high technical quality of works and respect for the materials. Possibly, there is a genetically inherent craftsman's skill and intelligence, which does not permit sloppiness. These distinctive qualities are also recognised and appreciated abroad, as Latvian textile artists not only participate on a regular basis in in-ternational competitions and exhibitions, but also receive recognition and awards.

/Translator into English: Sarmīte Lietuviete/
go back