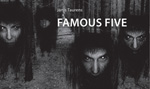 Esoterics and Method


Pēteris Bankovskis, art critic


Jānis Taurens. "Famous Five" (Rīga: Neputns, 2009)
Alise Tīfentāle. "Alnis Stakle" (Rīga: Neputns, 2009)
Two new additions to the Studija Library. The publica­tions are visually similar, as befits books released in the same series, and have a common conceptual background, since both Alise Tīfentāle and Jānis Taurens are Studija contributing authors. But in terms of content, the two books couldn't be more different.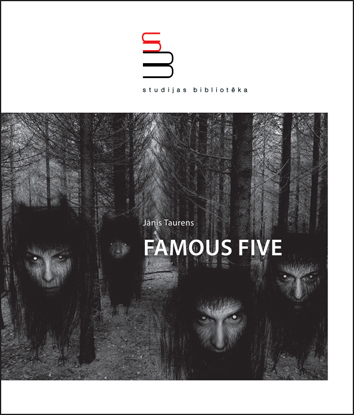 Jānis Taurens. Famous Five. Rīga: Neputns, 2009. 96 lpp.: il.
Famous Five (F5) is a group of artists that may or may not include Līga Marcinkeviča, Ieva Rubeze, Mārtiņš Ratniks, Ervīns Broks and/or Renārs Krūmiņš, and Fēlikss Zīders. Perhaps there is someone else too, but this is not important, because the Brief Biography found on pages 60-61 of F5 does not mention any surnames at all. Already right at the beginning, Jānis Taurens mentions that they used to go around hanging out together as a rock group, rather than as artists. In a sense, this still holds true, in a similar way to, say, using a well-known example - The Beatles. It is of absolutely no consequence to the listener that the B part of the single 'Norwegian Wood' (AABA) was not written by Lennon, but by McCartney. It's a Beat­les song - and that's it.

It's the same with works by F5. Even to the group's members it doesn't matter, they don't even know (no longer remember) who did what or who owns what part of the intended. Here, however, the similarity with a rock group ends, because unlike rockers, the members of the F5 don't seem to have that excessive ambitiousness which is usually blown up to cosmic proportions once they become public idols. Unless he or she deliberately sets out to lead a scandalous life, the artist is in no danger of becoming a public idol. Rather, they will most likely be known to "civil society," that handful of people who shape the media environment (including the public space) and experience it to the full, and for the sake of courtesy will be able to name a few artists, while all the rest, the public at large, hasn't even got a clue that such artists exist. Because the absolute majority in any society does not visit home-grown exhibitions, won't read about art or go to biennales and triennales abroad.

It could be said that contemporary art is a kind of self-contained sect with its own rituals, "saints" and "temple servants." Jānis Taurens too has crafted his book about the F5 as a collection of esoteric fragments, as one of many possible collections from which (if they survive) the faith­ful (if there will be any) at some sort of concilium will be able to construct more or less authoritative Writings. The work contains Taurens' own reminiscences, a couple of quotations and a lengthy conversation on absolutely eve­rything with F5 members. The text and ima­ges presented do not afford an academically balanced, analy­tical view of the work of F5 and its impact on the total artistic land­scape in present day Latvia and beyond. Nor does it offer much in the way of social or historic context.

A number of times it is stated in the book that the members of F5 deliberately avoided "social and political commentary" in their works, thereby going against the dominant fashion, the prevailing Zeitgeist in art. Naturally, when F5 received a rejection from the state to participate in the Venice Biennale, the group itself became embroiled in socio-political machinations, but Taurens declines to examine this event in greater detail. He has also decided against including more facts about F5 exhibitions, and there is no bibliography. Overall, this little book about the F5 is just as inward looking (enigmatic) as the humanly close, but never to be mechanically decoded works by the F5.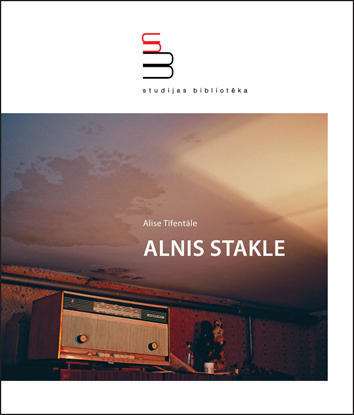 Alise Tīfentāle. Alnis Stakle. Rīga, Neputns, 2009. 104 pages, illustrated.
Alise Tīfentāle's collection on the photographer Alnis Stakle is, in terms of structure and possible useful­ness, almost the opposite of Taurens' work. Here also you won't find a bibliography or similar such "details," it seems that Studija Library is intended for a hypothetical "wider" audience who, as far as the publisher is concerned, have no need for such things. But in all other aspects Tīfentāle's collected texts and choice of images reveal a clear-cut, almost mathematically precise approach; expressed in preaching mode: it shows method. Yet it would be wrong to immediately describe her method as "scientific" and to pigeonhole it as belonging to one particular theory or another. Yes, it's true, Tīfentāle does quote from the standard sources such as Susan Sontag and Ernst Cassirer, but sparingly and tastefully. I like the fact that she makes reference to John Berger, an author who is important to me. Making mention of works by world-renowned photographers and noting analogies, or direct or indirect influences on Stakle's photographic understanding is, I believe, appropriate. Of course, in order for these refer­ences to be useful to the reader in forming their own views on the photographer in question, the reader must have as extensive a knowledge of the past and the present of pho­tography as Alise Tīfentāle.

But she, it seems, has no "other" sorts of readers in mind. And rightly so, because the "wider audience" I mentioned earlier most probably doesn't exist today. In any event, her text does not slide into conjectural prattle, but gives a proper explanation of why the photographer Alnis Stakle is an artist, and not a person who goes with the flow and imagines that he is an artist. This sort of clear­sightedness of vision is particularly important when ex­amining photography as a medium for artistic creativity. Because, in the global village, photography and all other human activities or pastime (which today's society tries to turn everything into) has a tendency of spreading like a pandemic, making Jesus' famous aphorism that "many are called, but few are chosen" increasingly relevant. Alnis Stakle's photographs, as revealed in the in-depth interview with the artist himself, and logically ar­ranged in Tīfentāle's reflections on particular cycles of works and in the reproduction section, are undoubtedly an established component of contemporary Latvian art.

/Translator into English: Filips Birzulis/
go back