A Copy of Nature with Balanced Attitude


Zane Onckule, Art Critic


A conversation with the artist Arturs Bērziņš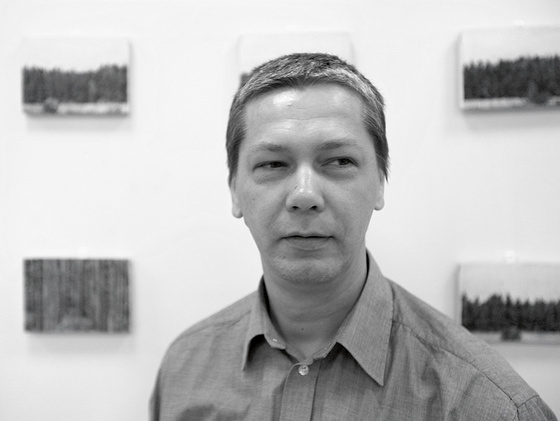 Arturs Bērziņš. 2009. Photo: Martins Vizbulis
Arturs Bērziņš was born in 1971. Lives and works in Olaine, Latvia. BA in painting, graduated from the Art Academy of Latvia, 2007. Currently at the academy, studying for his MA. Participated in group exhibitions Itch (Nieze) (2007), and Candy Bomber (2008), and in a conceptual painting master workshop exhibition Signature (Paraksts) (2008). Two solo exhibitions, one titled Outskirtism (Nomalība) was hosted in the building of the company Ekodienests, in Maskavas iela 456a, Riga, and the other called Without Title (Folk Romanticism) shown in several towns in Latvia (in Aizpute, Liepāja, Līvāni) from October, 2008. Arturs Bērziņš creates his monochrome works on small wooden boards. According to the author, "the result is monochrome and reflective". He was nominated as a candidate for the Purvītis Prize in 2008 for his exhibition Outskirtism. He also received the newspaper Diena annual culture prize for the same exhibition.

The exhibition Without Title (Folk Romanticism) is on show at the exhibition hall Rīgas mākslas telpa (Riga Art Space) from 20 March, and it is a project musing on the ideas and the scenery of Latvia as it is today. This is what our conversation is about.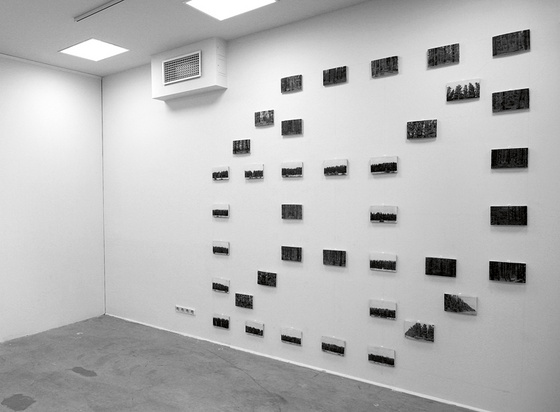 Arturs Bērziņš. Whitout title (construction). Charcoal on canvas and wood. 14x20cm (x38). 2008. Photo: Martins Vizbulis
Zane Onckule: You wrote in your e-mail about your intention to visit the exhibitions before we meet. What are your impressions?

Arturs Bērziņš: All together, a bit weird. The works do not get beyond sensations very often. It is typical that everything looks better in photos than in real life. This is true about the majority of contemporary art. The photo of the work is great, from a distance you can have a look at it, but in real life it's just sensations and that's all.

Z.O.: It is quite the opposite, though, with your works and your texts. Generally you're not a comfortable person for interviewing, because I could react to every idea and thought of yours just by turning it into a question starting with "why".

A.B.: I'm not a writer writing causes problems for me. I describe everything in order to make it easier to get spaces for exhibitions, as well as to get funding. For example, at the exhibition Outskirtism I sat and wrote down everything I saw: each painting separately, the exhibition in general. If I had a relationship with an art gallery, I wouldn't have to be writing texts.

Z.O.: How do you create your works: do you start with a general idea or with separate details?

A.B.: I have my own vision, and I want to create a complete picture. I have collected these ideas for about 12 years, and now I feel that I want to put it all together and make it into an exhibition. My opinion about society is not really a comment, it is an observation about what is happening instead, who is at the bottom of the pyramid, who is at the top, how communication takes place, what is the remoteness of the ruling power, how dreams and ideas are bargained, what is eating up the government debt. It is about foreign investment, which some people call the root of all evil, even though majority of us thinks it is the best thing that can happen to us. I think that the next exhibition will be very textual.

Z.O.: And conceptual?

A.B.: In a way yes, but I hope that it won't be that bad. Text together with a visual explanation should be effective. They won't exactly be texts, rather you could say that the pictures will be textual. And in the end, an overall picture should appear. And then this vision may perhaps provoke a certain degree of involvement and an exchange of views.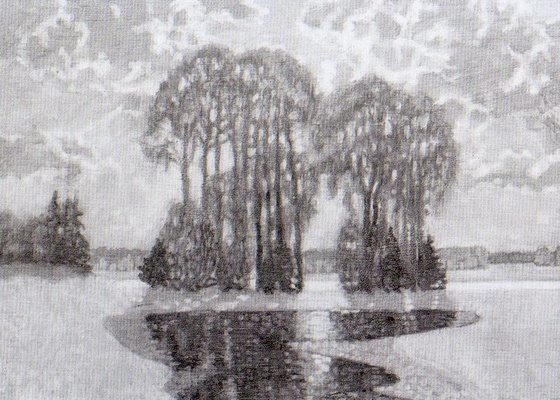 Arturs Bērziņš. Without Title (Winter). Charcoal on canvas and wood. 20x28cm. 2008. Photo from the artist's private archive
Z.O.: During the exhibition Outskirtism you were present at all times. Why? In order to collect opinions and to influence them?

A.B.: Why are exhibitions organised at all? The basic idea is of course about offer and demand. What is on offer are the emotions, the aesthetics, the ideas, and all of it can be bought. It's business. To make a deal, to offer yourself. That's one side of it. On the other hand - why do we need art at all? And when we answer this question, it is clear why somebody is present at the exhibition at all times. In my opinion, it is a social act. Usually you present your thoughts, your vision, some kind of an offer, and someone comes and has a look at what you have done, but they already have their own ideas, their own reactions, and this is where art begins. I wished to be present at that moment. While the works are being transported to the exhibition, art does not exist; it doesn't exist while the exhibition hall is closed, or when a picture is turned upside down - it doesn't exist.

Z.O.: So was it a dialogue you needed then?

A.B.: Yes, because there's never any feedback. You make exhibitions and you don't know what people think about it, if anyone wants your work at all. And this is one way how to do it. I met several people who are not familiar with the art world, and at one point I simply found myself at a higher level of awareness. Just like that, without any effort. I had never told stories before, but suddenly I realised that they are very important to people. For example, one visitor simply asked me to tell my story about the exhibition.

Z.O.: Did the exhibition Outskirtism serve as an initiative for the next exhibition Without Title (Folk Romanticism)?

A.B.: Yes, absolutely.

Z.O.: Without Title (Folk Romanticism) is an exhibition in several parts, where you have worked with the "analysis of the painter Purvītis" alongside an exploration of the border situations with nature, by examining and dividing into basic elements two landscapes painted by Purvītis, and this serves as a basis for making your own version about reality. To what extent is it all linked to Purvītis?

A.B.: Purvītis is not that important. The important thing is that he is important to others. And if he is important to others, it becomes interesting to find out what they see in him, as I may have missed something.

Z.O.: What is your opinion about Purvītis? Do you truly think people perceive his paintings of nature as representing Latvia?

A.B.: I read three books about Purvītis, and all of them were so full of admiration. The painter is declared as the creator of the basic image, the sum total image of Latvia.

Z.O.: And as the best European painter of snow.

A.B.: Yes, that as well, although I think - what's the difference whether they paint snow, fog, or rain. The important thing is what is under the snow. Everybody who avoids texts is making a big mistake. When I am looking at a piece of art, I talk to myself. For example, there is a picture with a chair and a person. I look: that is a chair, the chair is missing one leg, why isn't it falling apart, maybe there are other elements missing, for example, a person is missing an arm. This is the way to make associations. I can continue along the same lines: what is a chair anyway, it is an opportunity to sit down; possibly all of this originated in the subconscious of the artist, but we are analysing, talking, and new images emerge from our words. This is how I started to think about how Purvītis has been taken apart. Moreover, people mostly get their impressions from old reproductions, in which part of the information is lost or has been changed.

Z.O.: Did you work by exploring the original?

A.B.: As well. I took photos at the museum. In my case, it's not even important, I took Purvītis as an example. What is important is that I have never, whether in his or other painters' works, recognized that they have painted Latvia. I simply look at it, and there is no Latvia. If we were to go to the museum and to take the "Landscapes of Latvia" found in the collection of the museum, and if we were to take them abroad and put them next to, for example, similar French paintings, I don't think that we would be able to tell the difference which ones are of Latvia.

Z.O.: But the same thing could happen to your works, let's say in about 50 years somebody will take them to Germany and there is a possibility that there too they would find the same passionless portrayal of nature in many paintings.

A.B.: That's not my problem anymore. In this case I only made a copy.

Z.O.: Don't you want to make your own contribution?

A.B.: This is a question about how much we are ourselves. Children copy their parents, we copy everything around us. Copying and mimicry is our function to a large extent.

Z.O.: I am concerned about a notion that maybe Latvia does not exist, there is only an outline. Do you feel that you are capable of creating an image of Latvia?

A.B.: I'm trying. It's interesting to be here, and I can only thank Outskirtism for that. I was talking to Sandis, an exhibition visitor, who said that if you leave Latvia and enter Lithuania, for example, it is totally different already. It's the same with me. As soon as I leave Latvia and see that border post of Estonia, everything changes. That means we do have something characteristic only to us.

Z.O.: Do you plan to be present also at your most recent exhibition in the hall Arsenāls?

A.B.: There is going to be a lecture, but I won't be there at all times like in the previous exhibition.

Z.O.: What about the size of your paintings, will they be as small as they have been so far?

A.B.: Yes. It's connected with the way that I work. A large size requires the you absorb yourself into the work of art, it encircles you, there are sensations but there is no distance, hence you can't see, evaluate everything. A large-scale work physically pushes the artist to remain at the level of the senses, but what I need is distance.

Z.O.: Do you draw a specific fragment of nature, or do you draw with the thought that it is a smaller scale of something bigger?

A.B.: I use short-term memory only.

Z.O.: That's very general, it makes it difficult to remember the details.

A.B.: No, quite the opposite. There are two basic trends as regards object painting: one is when the short-term memory is used, the other - long-term memory. Long-term memory is something that largely distinguishes us from animals, it is a very human method when artists paint what they remember, and when they are painting objects, recognizable things, then there won't be any details. Yet short-term memory is also important, and that's what I use, to my mind this is a more important, more natural method, because then you take each little piece at a distance, from a photo, for example, and simply copy it.

Z.O.: In what way?

A.B.: There is an image, and you make a copy of it. You get absorbed by it, and the scale doesn't matter. I like it that something is inevitably lost, but something is also added. I don't use projectors, I filter everything through myself. This process is alive, and that is important. As a result, the picture on the wall is small, it seems to be something very distant, nevertheless it makes you approach it, you have to come closer to have a look, and suddenly you see what is beyond it.

Z.O.: Has anyone influenced your opinions and your activities as an artist?

A.B.: Many have influenced me in one way or another. But it is dangerous to start reproducing somebody else's art. Besides, if ever I find that somebody sees and paints the way I want, I will understand that I have to quit. But I have not yet seen a picture or a scene like that, neither have I succeeded in creating one myself, so I keep on drawing. Besides, all my leading lights are dead.

Z.O.: It's safer like that.

A.B.: Yes. Laurie Anderson came to Riga, and after the concert I felt kind of funny. I'd lost enthusiasm.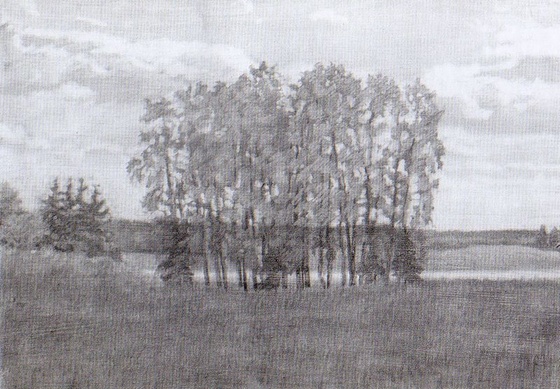 Arturs Bērziņš. Without Title (Winter). Charcoal on canvas and wood. 20x28cm. 2008. Photo from the artist's private archive
Z.O.: Your objective when preparing your BA graduation work at the Art Academy of Latvia was to ascertain who you are and what you like. Has anything changed? How would you think of yourself through art today?

A.B.: It would be a very similar work. I still have the same interests and aesthetic feelings. You cannot change the way you've evolved, for instance, my favourite colour is still grey. I can justify this immediately. It's the way I like to look at things. I analyse grey: the colour grey is balanced, it is neither black nor white nor colourful, it is a balanced approach, and it is neither good nor bad, it's your own world. Or another favourite: black - that's something absorbing, it's silence, night, peace. We can have very different conceptions. It is the same when talking about Purvītis and what people see in his paintings, how these ideas have originated over time, you can't change that.

Z.O.: Initially he was perceived differently.

A.B.: In any case, I don't see Latvia in his paintings, even though our country has changed a lot over the years. For instance, I did some research and found out that in some parts of Latvia the forested areas have even doubled in size.

Z.O.: Because land is left uncultivated?

A.B.: There were cultivated fields a long time ago, now it's all covered by forest, and we have more forests than at the time of Purvītis. However, you can't see any of that in his paintings, and Purvītis himself recognised that he did not see an artistic element in nature, that he did not see composition. He construed a picture out of several separate elements from nature, but it doesn't depict the surroundings where we live and which influence us.

Z.O.: You live in Olaine.

A.B.: I've lived there the whole of my life, and that is the most interesting thing to me. It influences me. There aren't only natural landscapes in Olaine, as you might conclude after seeing the pictures, there's also horrifying things: the industrial area is a total catastrophe, an aesthetic catastrophe, and then those houses - white boxes, maybe that's why I like minimalism.

Z.O.: Have you held any exhibitions in Olaine?

A.B.: No.

Z.O.: Your exhibition Without Title (Folk Romanticism) was recently displayed in Aizpute, Liepāja, Līvāni. Do you seek out places outside Riga, such remote areas, on purpose?

A.B.: See, if Purvītis is kind of unique phenomenon and he is all about the ordinary things of nature which Riga inhabitants perhaps don't see at all, then I had the idea that perhaps he should be brought closer to nature.

Z.O.: Did you talk to the local people? How did they receive your works?

A.B.: In Aizpute there wasn't any particular interest. I didn't have the impression that they look forward to any artists visiting them.

Z.O.: People living outside Riga have accepted that nothing ever happens, maybe that's the reason why they didn't react?

A.B.: Perhaps. But maybe it's really not that important to them. It's also in a way a gesture from my side. I have collected certain information which will be useful to me in the future. For example, in Liepāja some people seriously consider that Latvia is purple.

Z.O.: Purple?

A.B.: Yes, apparently the sky there is totally different. We could even, possibly, talk about the specific light and colour of Liepāja.

Z.O.: What does colour mean to you? Your works are monochrome.

A.B.: Colour is extremely subjective. Everybody sees it differently. My sense of colour is very peculiar. And there are many reasons why I don't use colour. When my daughter was very little, I brought her into my studio and I thought I would show her my art, and that we would talk about it, but she headed directly towards a colourful juice carton on the shelf. Therefore bright colour is attractive. I came to the conclusion that using colour in art is a somewhat tricky business. And then many painters say that they don't like green, this means we automatically ignore something, so what's the point of doing anything with colour. A drawing is much more direct.

Z.O.: The coal that you use for drawing is made by yourself.

A.B.: Yes, but it's not really that important who burnt it: whether it was me or the French, or the Americans, the pigment you get as a result is the same. For me it's the process. It is somehow more interesting. Whilst burning the coal I prepare myself for the work, just as when I am priming the board I think about the drawing that will be there in the finish.

/Translator into English: Laura Zandersone, Sarmīte Lietuviete, Filips Birzulis/


go back