Barbara Gaile's exhibition [15.02.2011. 11:36]


"Rīgas galerija"


Barbara Gaile: "Having worked with mother of pearl pigments for many years, I have come to realize how tricky the process is. In a purely visual sense, its aesthetic edge is quite narrow and sharp; just a little, just tiny nuance or even the direction of the application can turn the whole painting into something quite banal or unattractive, common, or even vulgar. The colouring of pearls is like a separate colouring beyond the confines of traditional coloring. Another galaxy beyond the one already discovered".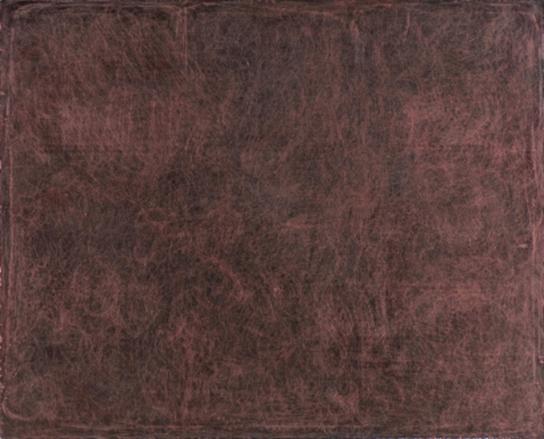 Barbara Gaile. Smalki maldi / Subtle Trap. 2009
Selection of Barbara Gaile paintings is a subjective exhibition version by exhibition curator Inese Riņķe: "For me Barbara Gaile recalls alchemist from the medieval times who may turn into gold everything ordinary - in this case into pearls".

The exhibition included paintings are created during the period 2003 rd till 2010th year. 11 paintings (BALEINE BLEUE. 2007, DOMU NOPLŪDE. 2009, SMALKI MALDI. 2009, LILLĀ MIGLA. 2010, MANS ZELTA KOLIBRI. 2010, MAGENTA. 2010 etc.) are from excellent solo show "PEARLS" (Latvian National Museum of Art. 2010) and paintings from Riga Gallery collection.

Barbara Gaile works on texture and colours of paintings for a long time; polishing and rubbing of paint acquires a particular significance as well as the choice of special technological means (pigments, varnishes, purple, gold) to achieve "a sum of hazy, tarnished and dim mirror surfaces". The exhibition is a dedication to mystery – emotions and feelings translated in colours.

Helēna Demakova wrote on Gaile's paintings: "Her abstractions are as abstract as a sea fragment influenced by numerous factors or an exotic leaf subjected to human touch and weather caprices. One could see in her works magnified fragments of a microscopic world or condensed and cartographic macro events, reflecting psychological, not material environment, retaining just the pleasure of human touch from the latter".

Barbara Gaile has organized 11 solo exhibitions. Two of them were held at Riga Gallery –"Discoveries" (2004) and "Mysterious Life of Paintings" (2008).

She represented Latvia at important exposition -"Surprising Latvia" in France (2005) and take part at International Art Fair ART MOSCOW in Russia.

Barbara Gaile has received important awards:
Prix Bornhauser-Molinari (France, 2000),
Silver medal in Arts of Merite et devouement français Prix Charles Oulmont (France.1998)
Grand Prix in 4th Exhibition of the Soros Centre of Contemporary Art of Riga, Pedvale, Open Air art Museum, (Sabile, Latvia.1996)
Painting of The Year, A. Sūna Gallery (Latvia, 1995)
Prix Eva Lange (Sweden, 1994)

Works in collections:
Contemporary Art Museum of Medellin, Columbia
Latvian National Museum of Art , Riga, Latvia
Contemporary Art Museum of Latvia, Riga, Latvia
Pedvāle Open Air Art Museum, Sabile, Latvia
Muzeum of Ventspils, Ventspils, Latvia
AB.LV Contemporary Art Collection, Riga, Latvia
Private collections in France, Latvia and elsewhere

Barbara Gaile (b.1968) has graduated from the Janis Rozentāls Riga Secondary Art School, 1992 studied at the Painting Department of the University of Sunderland (Great Britain), 1995 graduated from the Painting Department of the Latvian Academy of Art. Since 1996 lives and works in Paris.

Working hours of gallery: Tue-Fri 12-6pm, Sat 12-4pm.
go back
Leave a comment